Esat Ağırbaş, Esat Ağırbaş Barbershop
A cozy grooming haven steps away from busy Vali Konağı Avenue, with a very loyal clientele. Esat Ağırbaş is Fezi Altun's go-to person for a shave and haircut.
Can you tell us about yourself?
I'm Esat Ağırbaş. My roots are originally from Sivas, but I was born and raised in Istanbul. I've been in this industry for seventeen years by now. My first job was in the Harbiye neighborhood of Istanbul; back then, I would go to the shop after school hours. That's how my journey began.
How did you enter the world of grooming?
I'd rather not be a cliché and say things like I'm here to make a change. (Laughs). There was a barbershop I used to visit for shaves after school. I guess the barber there saw a certain spark in me, and he offered me a job. I started to work there at the day of the offer, as I wanted to make some money, too. When my finances started to ameliorate, it became clear that I was cut out for this business. Over time, I found my own style and voice, which made the job even more enjoyable.
What's different at Esat's shop?
This space is not meant to feel like a barbershop; rather it has a cozy, homely vibe. The architectural design is also mimicking that of a living room on purpose. My priority is to make people feel at ease when they're here. We offer them exactly what they want, a haircut and a shave that suit their jobs, social lives, and everything else. People leave this place happy, and that's really all I want.
What's the best thing about working at a neighborhood barbershop?
You're more like the local headman (muhtar), because you naturally develop a relationship with everyone you run into. You inevitably become a part of the neighborhood. I find it to be a beautiful thing because you get to have that sincere human connection. My mentor would always say that, "Yes, you can learn things at school, but apprenticeship and real life experiences are something else".
What's your favorite part about working with regulars?
That's the cherry on top! It's a wonderful experience.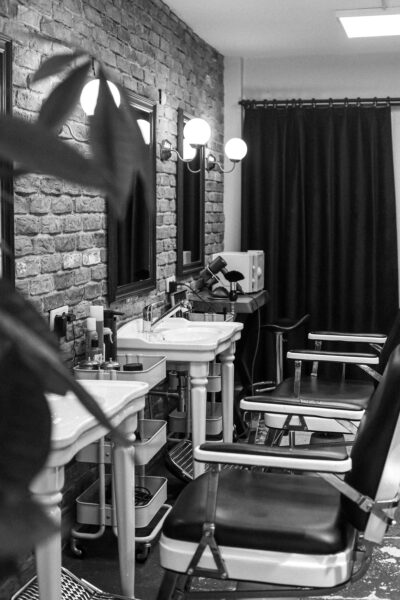 Do you have customers that have been coming to you for years?
I have a customer who has been a regular for twelve years. And I've been in the business for seventeen! Back when I completed my apprenticeship and became a qualified barber, I started having my own customers. When those people come in now, they love reminiscing about the old times. Everybody knows that people are often reluctant to change their dentists or barbers. You form a sort of habit with them. Those who don't like surprises always ask for the same thing. It's very important to sit in that chair and to have that complete trust in that person who knows exactly what you want.
What kind of problems do you tend to have at work?
I usually have trouble with appointments, because I'm very punctual. If you have an appointment at 11:00, I expect you to be there at 11:00. If you're going to be late, you should let me know half an hour in advance. I accept appointments every 40 minutes and if someone doesn't show up for theirs, I take it as disrespectful and can tolerate it to only some extent. I don't know if it's frustration accumulating over the years, but probably not, because I really love what I do.
What did you experience during the pandemic?
I was caught unprepared like everybody else. I had a system that was working seamlessly, and both that and my independence was abruptly taken away. There were also bills to be paid, both for the shop and my home, people I had to take care of, but alas, I could not work. Naturally, I went through tough times. Things were relatively okay with my shop, since I had some money saved. Many of my friends couldn't survive the pandemic and had to close down their shops. People had a certain standard of living and found it really hard to adjust. It wasn't easy for us to be shut down for days. When we opened our doors again, the first ten days were very, very busy.
At Esat Ağırbaş barbershop, you will run into brands like Dyson, Kerastase, System Professional and Wahl Professional. Appointments for a shave or haircut for both men and women are available.
Meşrutiyet Mahallesi, Şehit İsmet Armağan Sokak 11-13A
0212 234 80 32
@esatagirbas