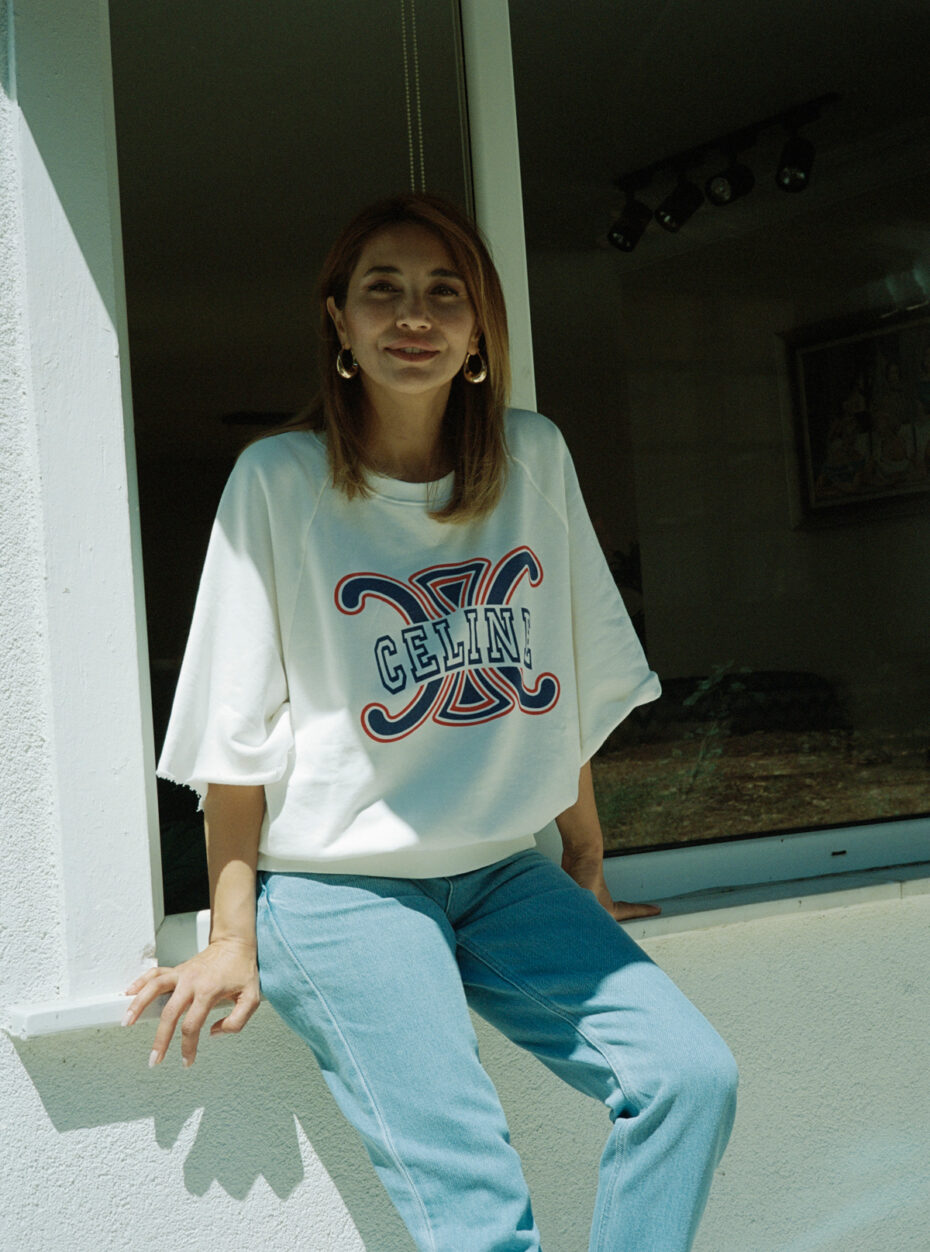 Esmeray Yıldırım, Brow Expert
Esmeray Yıldırım, one of Türkiye's most established eyebrow specialists, works her magic in her tranquil salon nestled in the Levent district. Valerie Dayan, a regular of Yıldırım for years, sits down with the brow maestro.
Can you tell us about yourself?
I was born in Istanbul and graduated from Architectural Drafting. After practicing my profession for some time, I entered the beauty industry. My academic background and current job are similar in that they're both centered around aesthetics and image. I've been an eyebrow specialist for 17 years.
How did you get into eyebrow styling?
Brows are the most essential part of our facial expressions, and I'm deeply intrigued by this idea. My approach is holistic. That's why I call myself an image maker as well. I offer several different services to my customers; I help them with their styles, hair colors, haircuts, and even grooming for men. But my expertise lies in shaping brows.
Did you get training on eyebrow styling?
I did take beauty courses out of curiosity, but I needed to practice with brows to form my technique. At first, I tried using razors, an uncommon tool back then. I remember peeking into the men's section at the back of the salon I was working at to see how they worked. Their primary tool was the razor. This way of working inspired me to experiment with razors for styling brows. And it worked! Then, I started experimenting with my oil blends. After work, I would craft mixtures like in a lab. The beauty industry is vast, and innovations are boundless. Driven by this idea and my never-ending curiosity, I eventually got where I am today, working as a facial expression specialist. I've consulted many actors, politicians, and businesspeople to this day.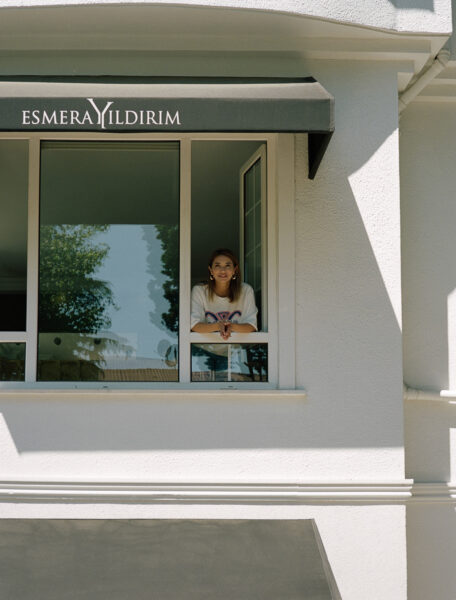 What is your approach when consulting actors?
Let's say my client would portray a stern woman. Besides her hair color and styling, her expression must reflect her attitude. You cannot have that with round-shaped or low eyebrows. I would opt for round shapes if she impersonates a naive and gullible character.
I have been to your first salon in Etiler, and now you're in Levent. Why did you choose this area?
This is my district. I love the serenity of Etiler, Levent, and Ulus. And I love my salon. My clients are the ones who have already heard my name and searched for my services. I don't have random clients.
What other services do you offer at your salon?
I'm well known for shaping brows. But we also offer facial and body treatments, manicures, pedicures, and eyelash treatments. These are part of the holistic image consulting I provide.
Should eyebrows follow specific trends?
I keep stressing that there are no trends for brows. My priority is first to help grow the eyebrows and then shape them. I'm a stern believer that brows should reflect one's personality.
You also have your brand of brow care products. How did you develop this line?
As you know, in today's world, launching cosmetic products is relatively easy. People questioned why it took me so long when I introduced my eyebrow wax. Because research and development of the products took over two years — my products should reflect me and my work principles. If I claim that my serum helps grow eyebrows, it should indeed. My products are available in my salon and major marketplace vendors.
Who do you recommend brow mesotherapy to?
Brows can get weak from time to time. This weakness is often due to stress or seasonal changes. It is essential to take the necessary measures to prevent stunted brow growth. In our salon, we help support blood circulation and stimulate brow growth with mesotherapy using a specially formulated serum. If you experience a lack of brow growth, plucking eyebrows once every 2-3 weeks is essential. Believe me, unless there is a genetic factor or an illness, it's pretty easy to grow back your brow hair.
How do you approach a client whose brows need a "rescue"?
First, we need to find out the root cause of the problem. Is it due to vitamin deficiency or brow-plucking mistakes? Or is it something as simple as not plucking for a long time? Stress can also affect eyebrows and hair. Once these kinds of problems are illuminated, the rest is easy. Brows can grow back with mesotherapy, circulation-supporting serums, proper eyebrow plucking, and ending bad habits. Another issue is related to permanent makeup. It can cause damage to the tissue of the brow area for some people. I don't recommend permanent makeup unless you need it. On another note, if it's done in the right way, there won't be any problems.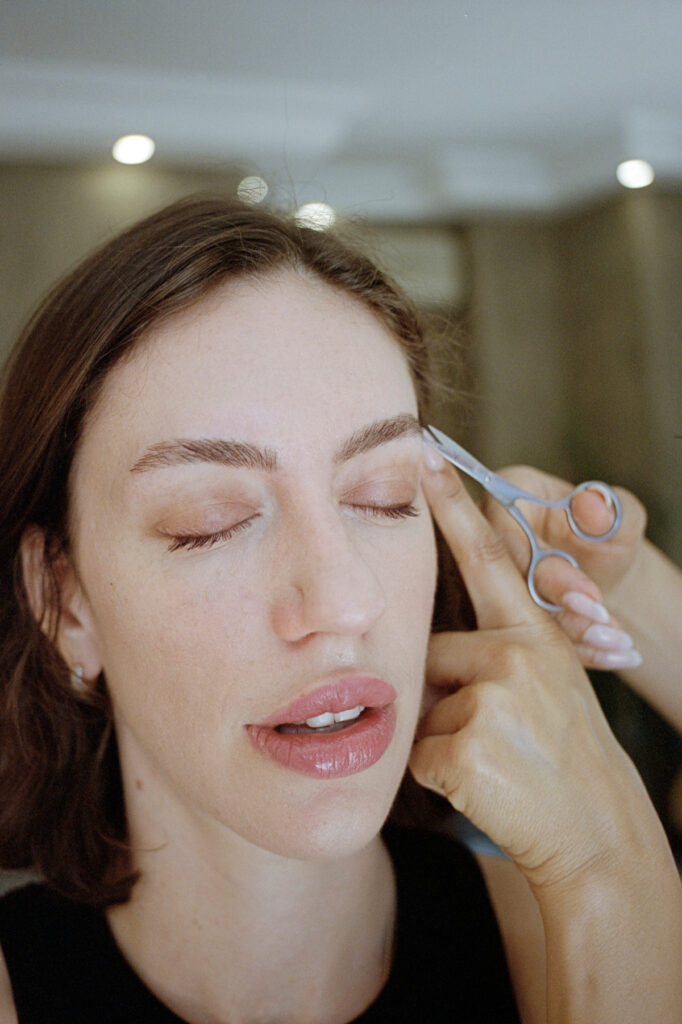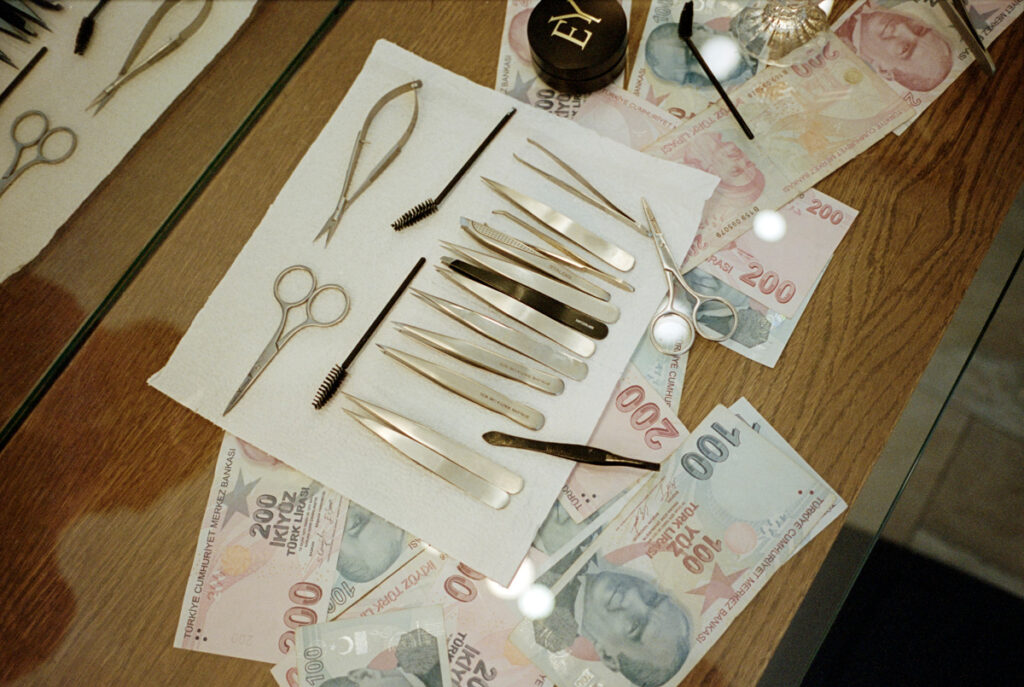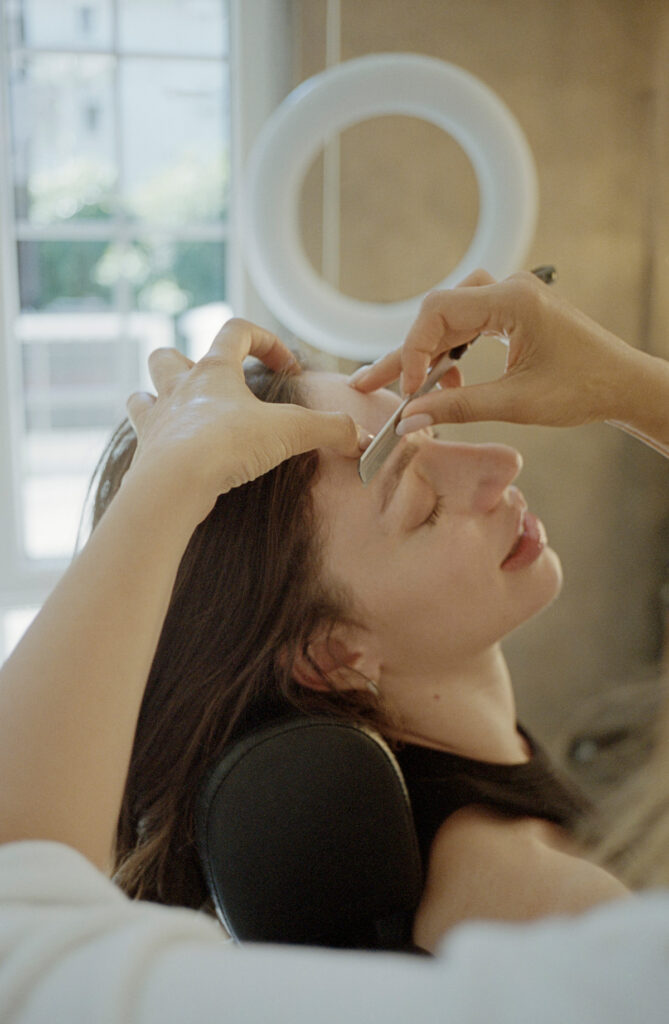 Do you recommend your clients make minor eyebrow adjustments at home?
Honestly, I don't. You pluck your brows by yourself, and after two days, they grow. Then you visit me, and your brows grow in two weeks. But because you've plucked them before I did, your brow hair grows. It's best to do plucking once every two weeks and no plucking in between. If you pluck them at short intervals, brow growth may be stunted. During those two weeks, I recommend my clients apply my brand's serum in the evening and use a derma roller once a week. After a while, you won't need these. In case of weakening of the brows, we return to our routine again.
What are your thoughts on eyebrow lamination?
Before starting any procedure, I specify the actual needs. When my client asks for lamination, and there's no need for it, I would outright tell them. Lamination can damage the structure of the eyebrow. So do the waxes used on the brows for the lamination effect. That's why I launched the Esmeray Yıldırım wax. Many waxes on the market shed eyebrows as they prevent the skin from getting enough oxygen.
In contrast, our wax formulation can keep the brows up all day and does not harm them. You may prefer permanent procedures occasionally, but you have to think long-term. Will you get tired of the momentary fad?
Do you pluck your eyebrows?
Yes. I've been styling my eyebrows the same way for years. And as you can see, assertive styles are not for me.
Do you have as many male clients as female?
The number of my female and male clients is almost equal. Makeup is a magic wand for women, but it's a different story for men. Their brows, beard, and hair are essential for their image. Many male clients cannot have their eyebrows plucked at barbershops because the results they receive are often "too done." Here, we prefer creating natural looks with subtle touches.
How is your relationship with your regular clients?
The clients I've been counseling for a long time are like sisters to me. Especially Bensu (Soral), Hande (Soral), Seda (Bakan), Belçim (Bilgin), Azra (Akın), and Hazal (Kaya). We were all at the beginning of our careers when I met them. Their friendships are priceless to me.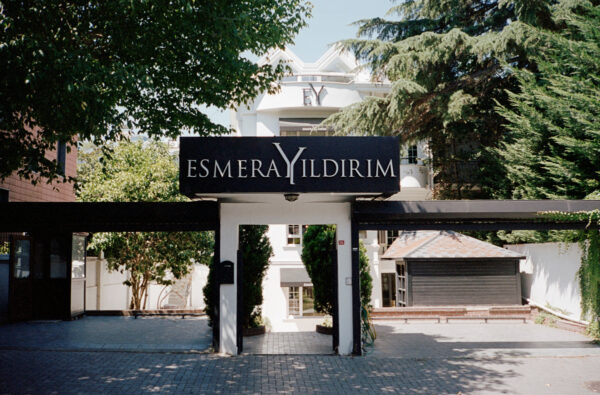 What other plans do you have for the Esmeray Yıldırım brand soon?
Training the next generation is essential. I've already been preparing students for the past years. Rather than explaining the techniques, I ask them to work with me in my salon. Many of my students are from other countries. I have new plans for my brand as well. Apart from being an eyebrow stylist, I'm very good at makeup. That's why I'm looking into adding color cosmetics to my product portfolio.
What are your thoughts on the local salon culture in Türkiye?
Once, before a flight, I went to a local hair salon near the airport for a blowout. While waiting, I noticed a young girl. She washed and dried her client's hair, dealt with her feet, and plucked her brows quickly. Eventually, she flattered her client to make her feel special. I watched her every move and was impressed by her skillset, speed, and passion for her work. In time, I want to find these hidden talents at local salons and lead them to claim their value.
Levent Caddesi Levent Mahallesi Güvercin Sokak No:35
@esmerayyildirim