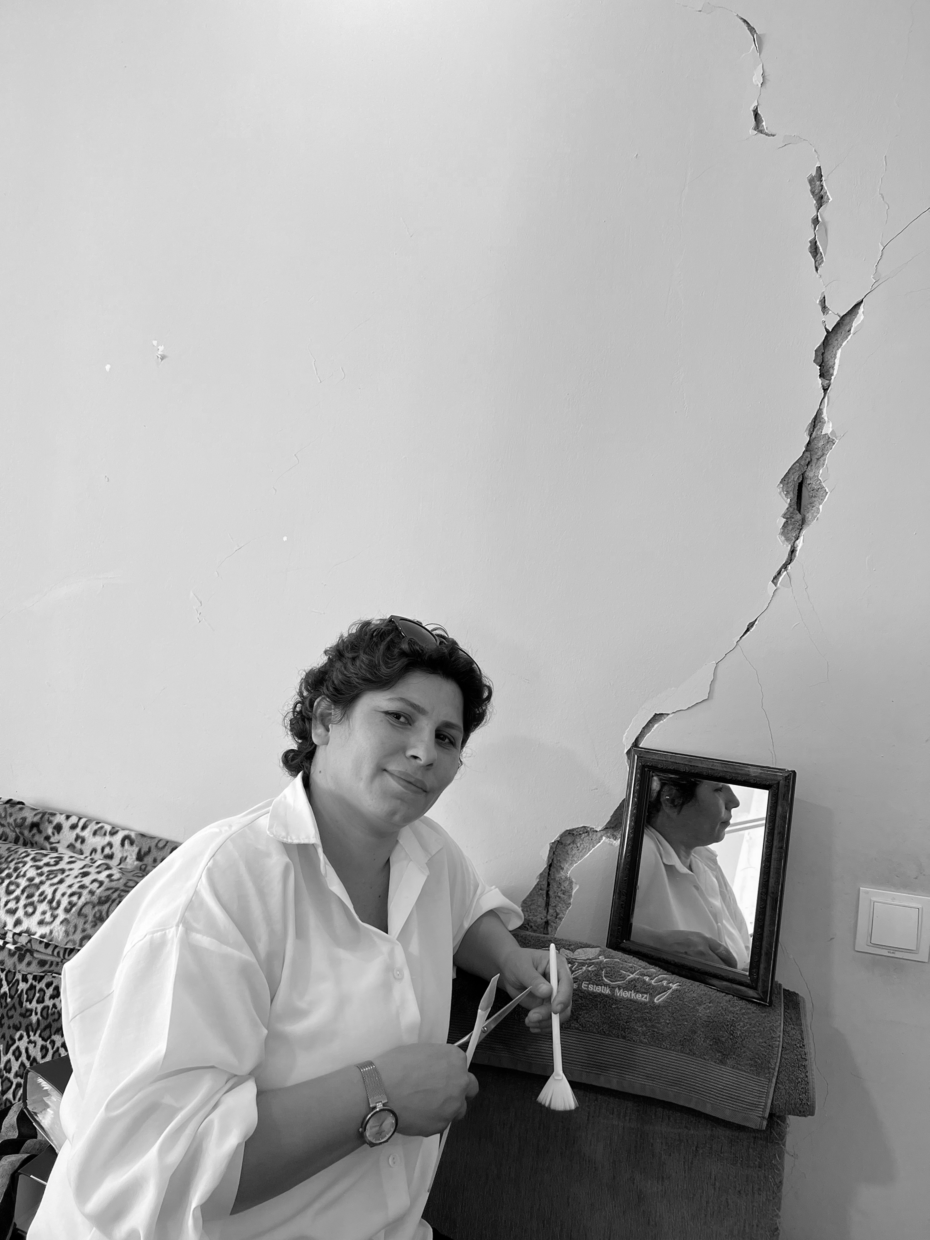 Gamze Falay, Vice President of Hatay Beauty Therapists Association
Gamze Falay has worked as a beauty specialist in Hatay's İskenderun district for 20 years. Along with her colleagues and hair professionals in her circle of friends, Falay tries to meet the personal care needs of those affected by the earthquake.
The disastrous earthquake in Turkey damaged Gamze Falay's beauty salon in Iskenderun. Though she's a quake survivor currently residing in a tent, Falay has joined forces with her colleagues to help women feel better. Nowadays, Falay is excited about opening up her new place and starting again. Despite all that has happened, she is optimistic about the future, as she confidently says, "Hatay will rise from its ashes."
What actions did you take before the earthquake as Hatay Beauty Therapists Association?
We were training beauty specialists in Hatay and coming up with solutions to any professional issues they faced.
Were you able to make any plans following the aftermath of the earthquake?
We've only been focused on helping the ones in need. I have a friend whose beauty salon remains intact; we offer women laser treatments. We've also built a team with local hairdressers to visit tents and container cities to give haircuts to women affected by the earthquake. Making others happy gives us tremendous joy.
How was the local beauty culture in Hatay before the earthquake?
The locals in Hatay are quite fond of the world of beauty. Skincare, manicure, or pedicure treatments are not considered a luxury but a part of daily life. Even if ten salons were in a small neighborhood, they'd all be bustling with customers.
We know that basic needs were not immediately met in the affected regions for quite a while. Women, in particular, are in a more disadvantaged position. You've visited a tent city in İskenderun to offer hair care treatments. What did you do for them? What were the reactions like?
Women's needs are mostly overlooked. It is thought that handing out menstrual products would be enough. They have various requirements, from underwear to haircuts. When giving out haircuts, we've used a technique to thin out their hair, making it easier for them to wash and dry. We've also offered various treatments to prim their facial hair and brows. This made them so happy! I know that seeing their beautiful and well-groomed images makes them feel a sense of empowerment.
Did you receive comments like "Beauty is not our priority right now"?
Not in the quake zone, but such comments have been made on social media. Someone wrote, "You should have brought them water instead of cutting their hair." A grooming session is just as essential for a person's hygiene.
The recovery in the affected region will take a while. What can beauty brands provide to the area in terms of personal care?
We're doing all we can with the remaining products in our stocks, but it is inevitable to run out of them. Here is my call to action for beauty brands: We need hair, personal care products, and hair styling tools. It's getting warmer here. There will be a growing need for deodorant, perfume, and dry shampoo. All of these are necessities, not indulgences.
You can contact Gamze Falay for appointments in her new salon and to provide aid for earthquake relief.

Gamze Falay Epilasyon ve Estetik
Denizciler Mah. Mehmet Akif Ersoy Cad. No: 37/A İskenderun/Hatay
+90 0532 449 63 70
@gamze_falay