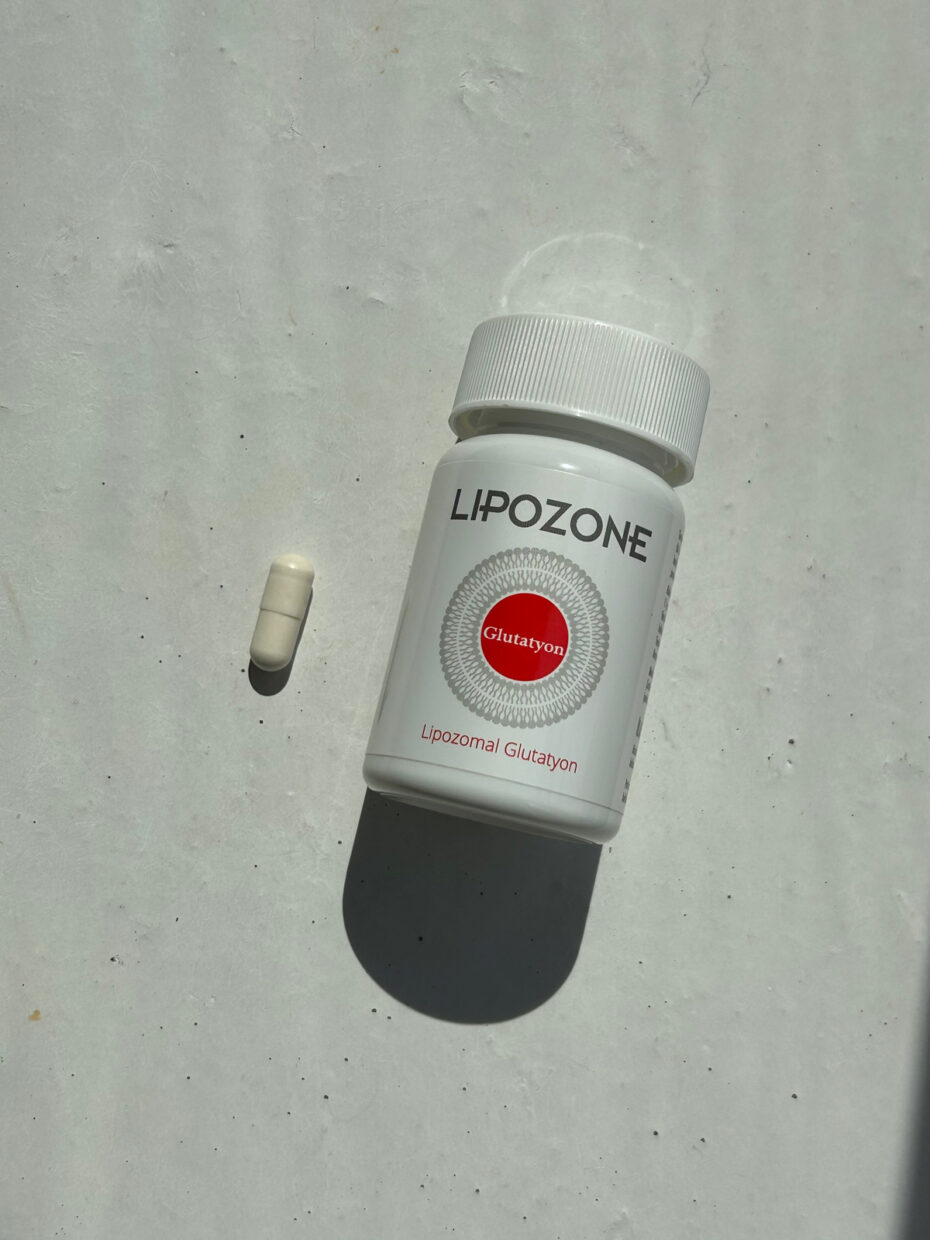 Lipozone Liposomal Glutathione
Who? Valerie Dayan

For how long? 1 month
It's quite a challenge for me to play favorites among beauty and wellness ingredients. All that have positive effects on my skin and body have their seasonal and, at times, momentary places in my routine, except for one mighty group of ingredients. I'll admit that I have a soft spot for antioxidants, no matter the specific point in time. Antioxidants are (scientifically) magical molecules that can reverse the harmful effects of free radicals that accumulate in our bodies due to pollution, stress, and eating habits – basically life itself. And these free radicals can be cell-damaging, which is unwanted, obviously. Damaged cells could lead to several sicknesses, but in the context of Wonderflaw, I will emphasize that they can lead to dull, unhealthy, vulnerable skin and a weakened immune system. That's why it's crucial to get a little help from our trusted friends the world of chemistry calls antioxidants. The multihyphenate heroes are vital for healthy skin and body indeed. I always use antioxidants in skincare products, but this spring, I've decided to include them as liposomal glutathione in my daily wellness regimen.
Glutathione is a potent antioxidant made up of amino acids (for chem nerds: cysteine, glutamate, and glycine) and can help defuse the damaging "oxidants" in our bodies. Both adverse environmental factors and aging play a role in lower glutathione levels. I've meant to include this powerhouse antioxidant in my routine for a long time, but I was looking for the proper and effective form to fit my lifestyle. What I've wanted to gain from glutathione was a glow from the inside out and an immunity boost that can help me keep up with my crazy schedule. I've considered IV treatments, but since I'm not a massive fan of needles (who is?), it didn't seem like a sustainable option I could follow regularly.
I've decided to go with Lipozone's Liposomal Glutathione for my inaugural glutathione experiment. My practical reasoning behind this choice was that A) it can effortlessly adapt to my daily routine, and B) it is the profoundly effective "liposomal" form.
The most notable thing about liposomal glutathione is that it is highly absorbable. Liposomal technology enwraps the glutathione molecule with a particular structure and transfers it directly to the area of effect without being dissolved in the stomach. That's why liposomal glutathione actually works. The fact that it remains intact in the stomach was a big plus for me because it meant I could take the pills on an empty stomach without worrying about nausea. As someone who has difficulty remembering to take supplements, I've had incidents when I took them at the wrong time and felt horrible. Not at all the case with Lipozone's liposomal glutathione. I consumed the pills with a large glass of water at random times of the day, along with Lipozone's Liposomal Resveratrol — I've already told you I have a thing for antioxidants, right? This freedom of intake put my mind at ease, making liposomal glutathione the first ever supplement I've never skipped for thirty consecutive days. Here I was, writing my personal wellness history, one antioxidant pill at a time.
The time it takes for the effects of liposomal glutathione to show itself is different for everyone. In my case, the positive changes started in about a week. I've noticed a visible glow on my skin, even on the most exhausting days and even without the help of illuminating makeup products. This was something I was fervently looking forward to. A few days later, I realized I was also physically more robust. I completed an intensely hectic and draining traveling itinerary with ever-changing weather temperatures without feeling sick or tired. Energetically speaking, I felt like I was at the top of my game. Lastly, Lipozone's Liposomal Glutathione also comes in liquid form in sachets, but I opted for the capsule pills for practical reasons. I'm super content to have finally experienced the visible effects of ingestible antioxidants (hallelujah), and I'm already ordering a new bottle as I write these words.
What do you want Wonderflaw editors to try out next?