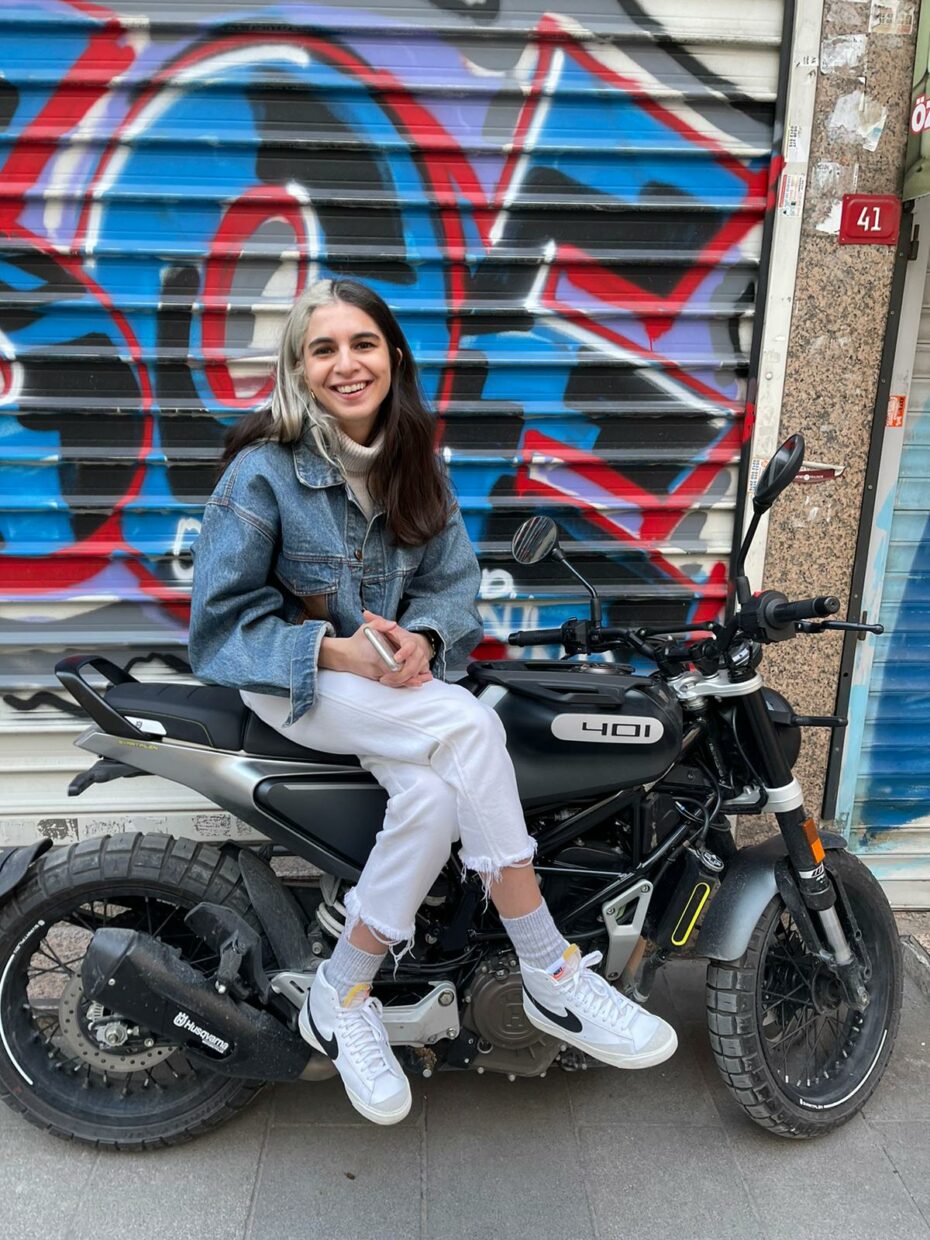 Rana Uludağ's Hair Is An Echo Of Her Personality
Palmiyeler's talented drummer might have temporarily given up on her split dye, but it has been a look deserving of recognition. Rana Uludağ tells why the dichotomous hair color has been worth every moment she's spent taking care of it.
The first time I saw Rana Uludağ was during a family-style summer dinner, perched in the middle of ancient ruins in Marmaris. She arrived at the table, jovially, with her Hellenistic dress, half white/gray, half brunette hair, and zero makeup. I knew instantly that I wanted to eventually interview her. She was something. The type of beautiful that is quiet and loud; familiar and fascinating. This striking person looked effortless, but one need not be a beauty editor to know just how much effort a split dye requires. Presenting a dramatic look nonchalantly was a special talent of hers she was unaware of. Although she has temporarily given up on her signature half and half on her hairdresser's advice, the magic of Rana's demeanor is ever-intact. At last, I talked to the Palmiyeler drummer and Omni Sound co-founder about the story of the split dye.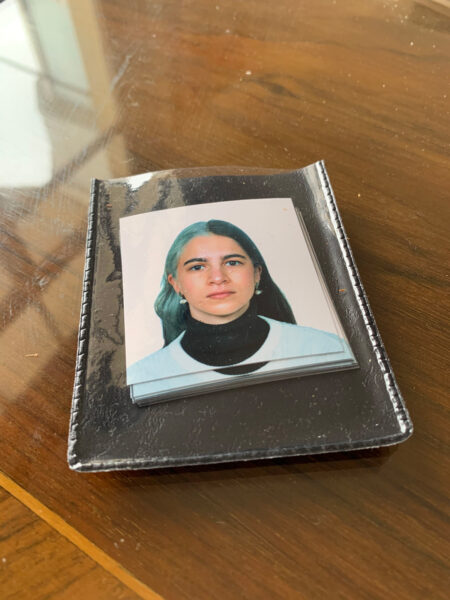 What prompted the split dye decision?
Doing the half-and-half has become a habit of mine that has evolved since high school. In tenth grade, a part on the nape of my neck was purple. I think it was a part of my self-exploration journey. Right before moving to New York for my master's, I had a small strand dyed white, as a physical symbol of this new beginning. Upon my return to Istanbul during the early pandemic, I patiently waited for the salons to reopen and finally found myself back on the chair asking for a change of a more dramatic nature. My hairdresser suggested we do a half-white color and this too, symbolized change. Once again, it's a new period in my life; with it, I have decided to return to my natural color.
How does having a perfectly colored hair moment make you feel?
For me it's not about having that perfect moment – I find that I feel more like myself, more whole when my hair reflects the state of mind I am in, who I am at that point in time. As someone who doesn't even get post-haircut blowouts, I do get an unexpected sense of relief after seeing two equally vibrant, perfectly separated colored parts on top of my head. I think that this is the style that best reflects the duality of my inner world.
Is it a hassle to care for a split dye?
Yes, it really is something to try and preserve the color, and since I can't always take the time I need to care for it, I've made my peace with the color fading. To have some sort of control over the fade, he would first color my hair to this lilac-esque hue to turn gray with a few washes, to the color I wanted. I love how we made this process of not making too much of an effort work in our favor. We used to do a dye session every 2-3 months but we had to prolong this period since my strands got so weak.
The nourishing and softening Kerastase Bain Satin shampoo is a must-have in my care routine. Davines Alchemic Conditioner is a savior for post-summer damage: It detangles and helps bring shine. I've also recently started using the Kerastase Chroma Filler Mask to deeply hydrate the strands that have been constantly exposed to bleach for the past two years.
How do you manage the color fade when you don't have any time to take care of your hair?
The split dye process takes a whopping four hours, so it's hard to find the time. I think this was the greatest disadvantage of this hairstyle – there were times when I couldn't make the time and was unhappy with how my hair color looked. Whenever this happened I would get my hair up in a little chignon to hide the fading strands.
When the color was intact, my favorite thing to do was a high ponytail, and this looked best in the first month. I like this style less when the roots start to show. Honestly, I didn't love the overthinking that came with this hairstyle but I did not care too much about the fading as I mostly loved the transition process.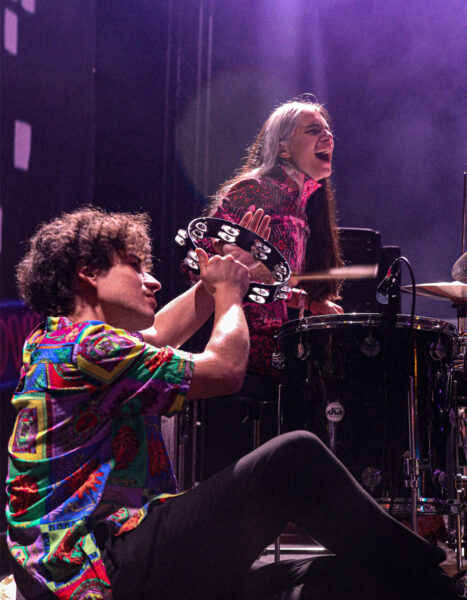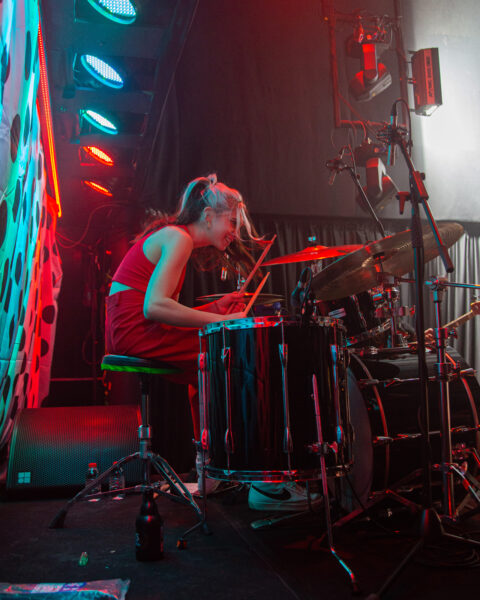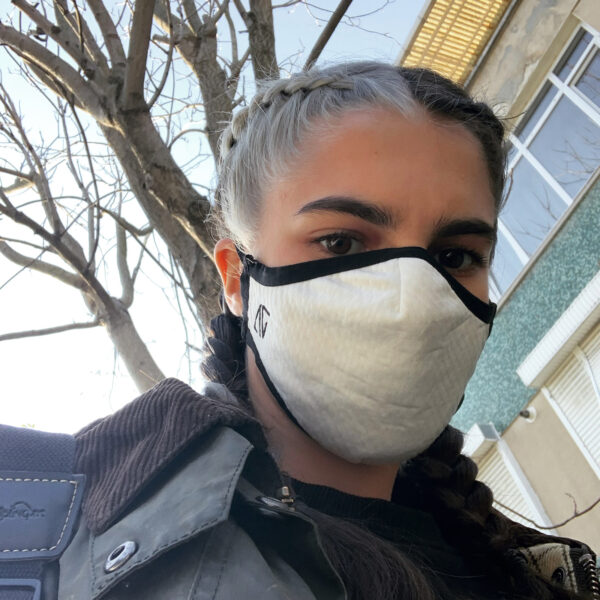 Any suggestions for those who are considering a similar colored hairstyle?
It all begins with finding the right hairdresser. I've seen friends get their hair irreversibly damaged while trying for similar, light colors: Bleaching is a delicate process. If you are thinking of keeping the style for a while as I have, it's even more important to go to a great colorist.
My beloved colorist Cemil İrez had to talk me out of the split dye at the end of two years – despite all the nourishing treatments, there was some chemical burn. I can wholeheartedly recommend Cemil İrez to anyone considering a color change. Enjoy it while it lasts!
Anyone who inspires you with their style?
Karen Carpenter forever!