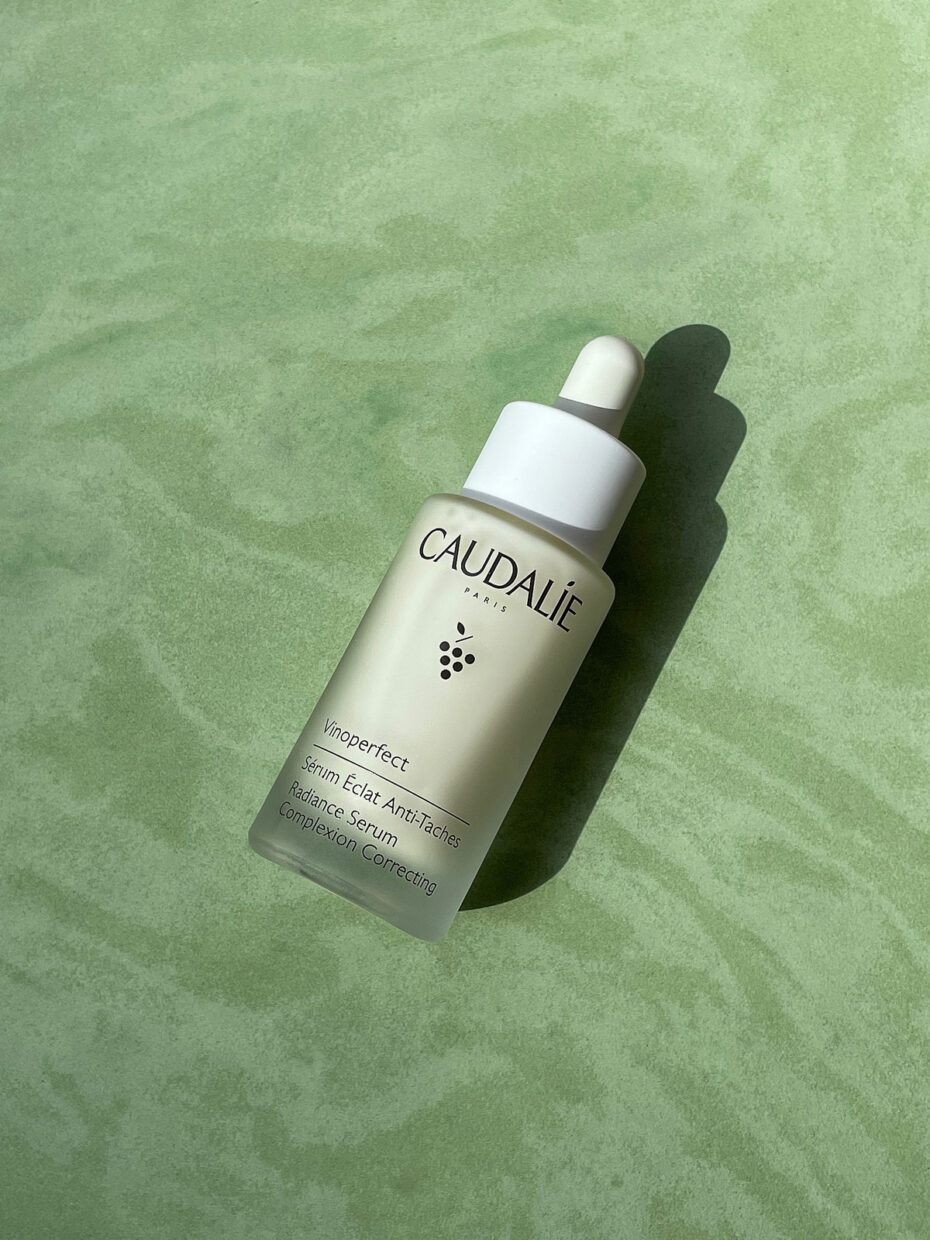 Caudalie Vinoperfect Serum
Who?
Valerie Dayan
For how long? 8 years
**SPOILERS AHEAD**: This is the right article if you're searching for a dark spot serum that can be used all year round, layers smoothly with other products, has a light texture, is free from toxic ingredients, doesn't dry out your skin, works on all kinds of spots, and yes, actually works.
When I first met Vinoperfect in 2014, it was my mid-20s, and dark spots were the least of my concern. However, as an enthusiastic young editor, I had an insatiable appetite for testing out new products, and this little white bottle joined my routine purely out of curiosity. At that time, Vitamin C wasn't an ingredient I needed nor used (didn't touch it until my early 30s), and my skin barrier wasn't as strong as it is now (yes, you can strengthen sensitive skin with the right products). Also, I didn't suffer from hyperpigmentation (the scientific/posh way of saying dark spots) except for those summer freckles on my nose. Initially, I applied Vinoperfect in the evenings for observation purposes. When I was sure my skin liked the serum, I added it to my morning routine under my sunscreen. During the second week of this experiment that began with zero expectations, perhaps for the first time in my life, I witnessed the beauty phenomenon I then thought was exclusive to beauty ads: Glowing skin. My skin looked healthy and had a glow I didn't know it could have. This made me feel great and looking back now, I think that that was the best part of this experiment. By the time I had finished my first bottle, my freckles had visibly faded.
This test welcomed Vinoperfect into my list of "classics" that I keep going back to. Yes, that list of no-brainer products exists for me; there even is a list of products-I-can-recommend-with-no-headache that are patiently waiting to get featured on Tried and Tested. Vinoperfect belongs in both. My friends who ask me for product suggestions are, well, my friends, thus have some sort of skincare knowledge by now. But there are still moments when I'm unsure if the person will remember to correctly apply SPF. Vinoperfect is a type of serum that doesn't cause sun sensitivity, so it doesn't lead to new skin issues or dark spots when your skin is exposed to sunlight. However, please don't take this as an excuse to avoid SPF: Protecting your skin from the sun daily is one of the most essential steps in preventing new spots and current ones from getting more visible.
Now, let me tell you why and how it works. Viniferine, a potent antioxidant derived from vine stems, is the patented ingredient of Caudalie. It is the very thing that fades dark spots, and it achieves this by slowing down excess melanin production. Squalene, another powerful ingredient in Vinoperfect's clean formulation free from unnecessary ingredients, locks in moisture. The type of squalene used in this serum is plant-based and comes from olives. Bisabolol, derived from the chamomile plant, is another ingredient I am a fan of as it alleviates inflammation and soothes the skin. The serum is oil-free and its milky texture is absorbed the moment it's applied. The light and airy scent remind me of a cool spring day. I believe this is my olfactive memory beaming me back to my visit to Sources de Caudalie (the brand's heavenly spa center nestled in the heart of a vineyard in Bordeaux) in March 2014. Since there's only a very negligible amount of perfume in the formulation, it doesn't cause any reaction. However, if you have ultra-sensitive skin, it would be a good idea to do a patch test before introducing any product to your routine.
In the mornings, I pat a few drops of Vinoperfect on clean skin – it is a very generous product -, moisturizer on my usually dry, then sunscreen, and occasionally a tinted moisturizer with light coverage. In the evenings, I layer it with a hydration or peptide serum. Somedays I pick out a moisturizing mask and go the sleep with it. Once a week, I apply an AHA mask (usually with glycolic acid) and then move on to Vinoperfect Serum. Also worth mentioning is that Caudalie has recently updated the serum's formulation to make it more effective and "cleaner." With the 2021 update and everything else I have mentioned above, Vinoperfect is a true skincare classic, and I love it forever.
What do you want Wonderflaw editors to try out next?