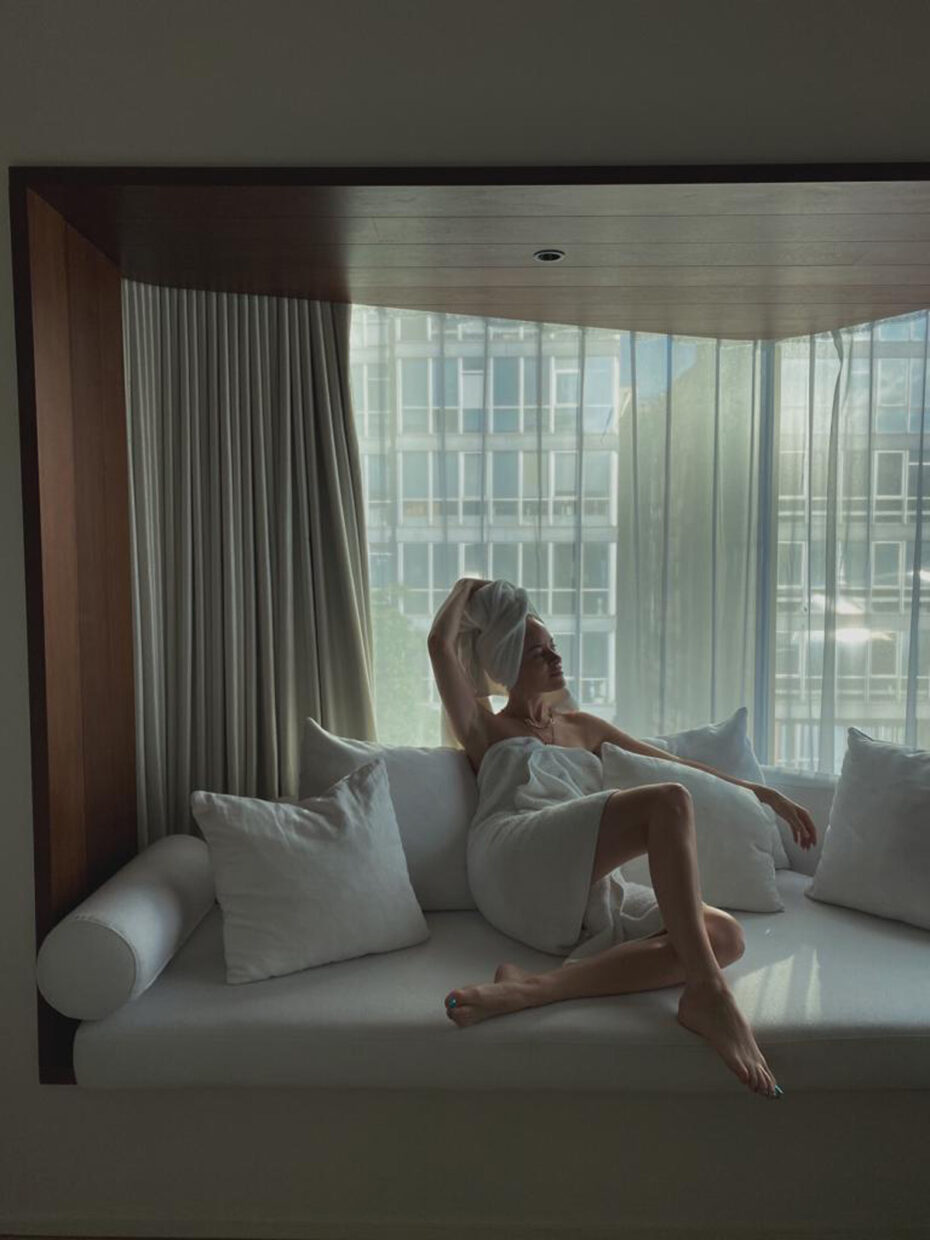 How Thora Valdimars Stays Loyal To Her Beauty Rituals
The secret's about keeping it simple, the Scandinavian way. Rotate's Copenhagen-based co-founder makes her own rules when it comes to routines that will make her feel her best.
I must admit I have a thing for Copenhagen. How original, one might think. What is next, Paris? Self-inflicted jokes aside, ever since I first visited the Nordic haven of my dreams, it has become one of my forever sources of inspiration for beauty looks, color experimentations, and, of course, food. What is special about the contemporary Danish stylistic approach is that they have an innate ability to take something super simple, and add an unexpected layer of character and soul to it. Thora Valdimars, the gorgeous and multi-talented mother and co-founder of the fashion brand Rotate, is the epitome of everything I love about the city. She's effortlessly bold and unapologetically herself, she's playful, she's colorful, and she knows when to slow down. Thora plays by the rules of her own beautiful and independent mind and heart, and that alone is enough to inspire all of us here at Wonderflaw. Read below to discover her skin, hair, and beauty must-haves, as well as her favorite beauty destinations in the Danish capital.
You are radiating at all times! What are some things you do to take care of your skin?
I try to make my routine as easy as possible or else I won't stick to it. I always take a shower before bed: I cleanse my skin with ZO Exfoliating Polish, and then use Ren Skincare Glow and Protect Serum, followed by a moisturizing cream by Augustinus Bader called The Ultimate Soothing Cream. I also use my FOREO mini UFO quite frequently; my favorite masks are Glow Addict and Youth Junkie. They make a difference in the appearance of my skin.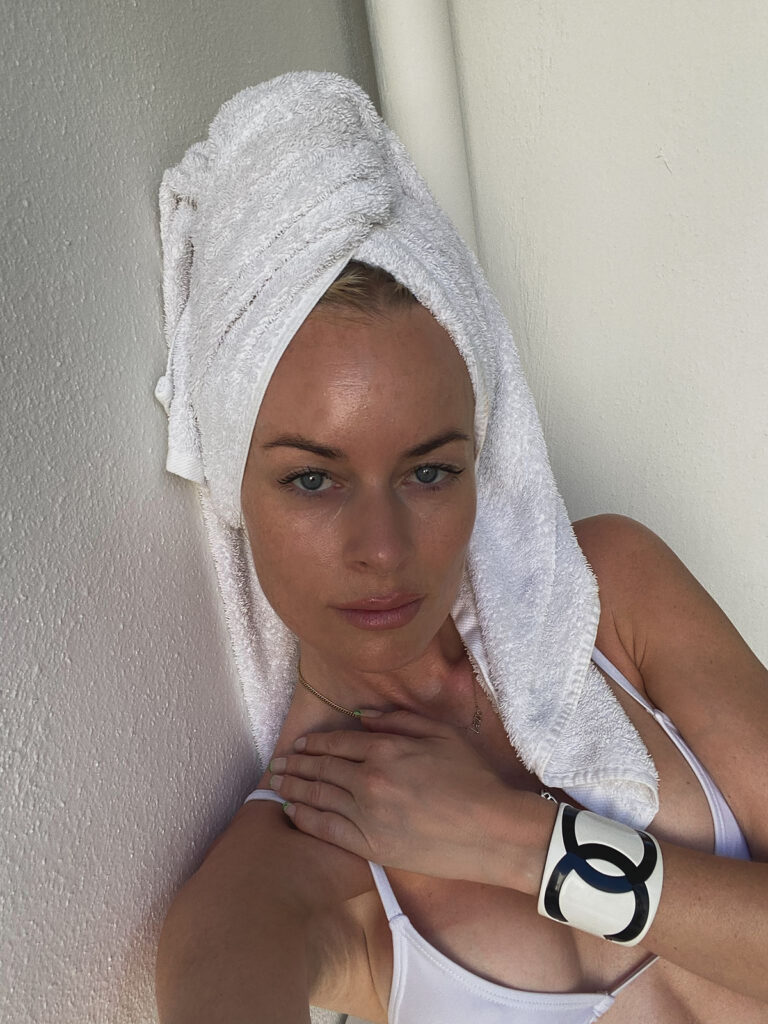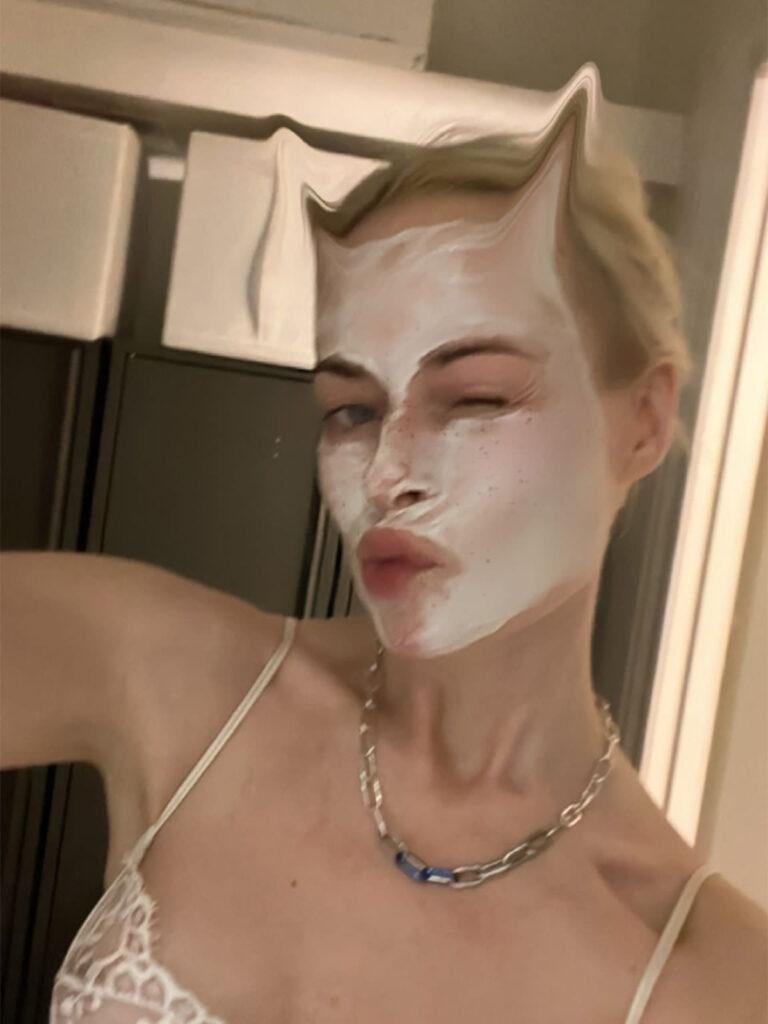 Equally sublime, your long, blond hair is an iconic part of your style. What are some routines you have or products you use to maintain the vibrancy of the color and the length?
My hair was in a really bad state when the pandemic hit us. I was super stressed and worn out, and this was taking a toll on my hair. I used to go every other month for highlights but ended up cutting my locks because my strands became so fragile.
So, my hairdresser and I decided to start afresh. He found a special hair coloring technique that doesn't bleach but still gives out that blonde color; something not as damaging to my hair as before. Also, instead of highlights, we do full color, so it's always just the roots that frequently need a touch-up. In this process, there is no heating involved, only the natural heat from my scalp.
I started taking a vitamin called Priorin approximately six months ago and I feel like I can see a difference in the thickness of my hair. I also only wash my hair with a shampoo called Nioxin. I also use their thickening spray. When I blow dry my hair – which is very rare – I use a protective spray by Oribè.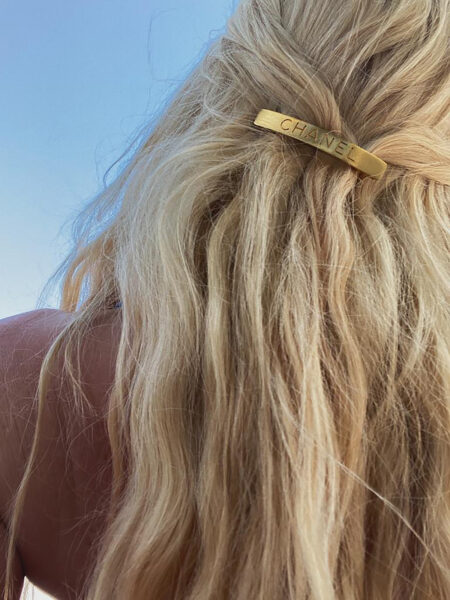 Although my hair is now naturally long, and thicker than it's ever been, I still love to play around with extensions. I switch it up every other month; my hairdresser does very long extensions and in between, I love doing slick textures with either a bun or a long braid. I use a curling cream (I know that sounds weird!) by Philip B to get the slick look. It has the same consistency as a leave-in conditioner but it's mostly the scent I'm drawn to, it's really out of this world.
We love those long, playful braids you often share. Do you braid your hair yourself?
Yes, I braid it myself! I loved braiding cornrows when I was younger and my son has long hair I also love braiding his hair. I love getting inspiration from Bella Hadid and Kim Kardashian's hairstyles. They do all these amazing slick hairstyles in fresh and modern ways.
Who are some of your go-to beauty professionals in Copenhagen?
My hairdresser Kasper Astrup works at my good friend's salon called Ofia, so it is always a double joy going there. I also love Cure Lab's facials: It is always an hour spent in heaven. They mostly use Biologique Recherche products, which have super potent active ingredients, so I come out feeling like a new person.
Lately, I've gotten into Cryo treatments at One Thirty Labs, which has really helped with old injuries and purely makes me feel good. Bikram yoga is my thing and Dottir Yoga is my destination to calm my mind and focus on myself for an hour. It's the best.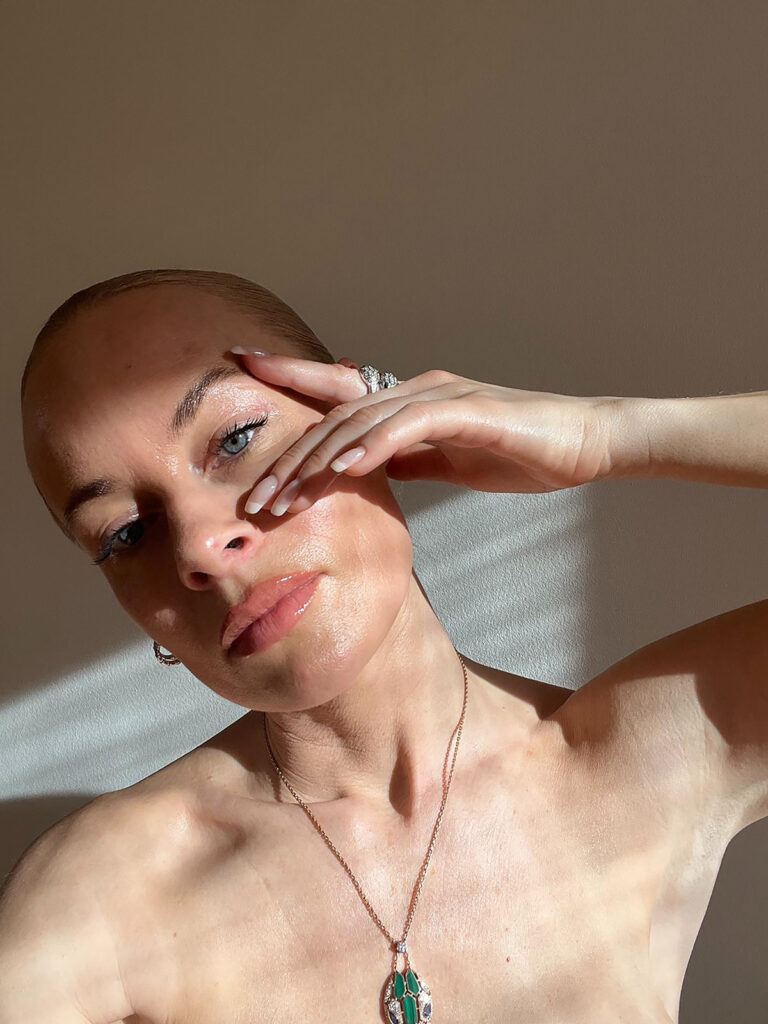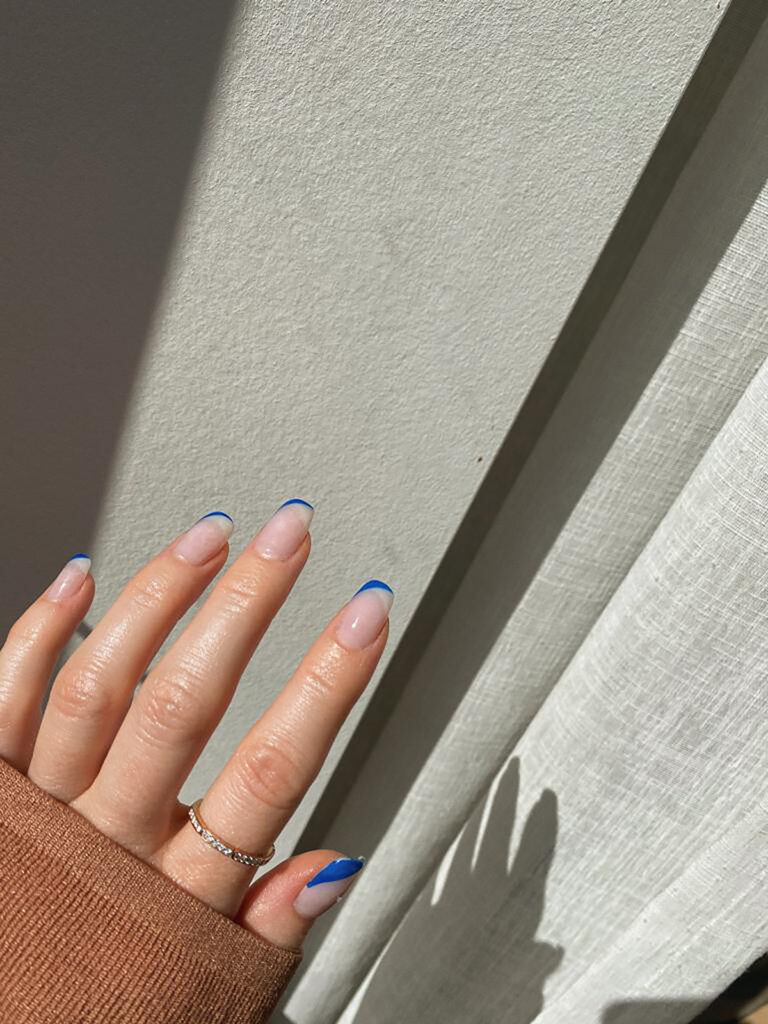 Are there Danish beauty brands you love to use?
I dig Tromborg and Karmameju; all their products and scents are wonderful. Rudolph skincare is another one I love having in my routine.
What is a beauty ritual passed on to you from your family that you still follow?
My mom always told me to keep it simple. I remember when I started wearing makeup, she bought a tinted moisturizer for me, along with mascara and a very subtle lipstick that only had a tiny bit of shimmer in it. It's so funny when I look at what I have in my makeup purse now, there is a tinted moisturizer with SPF 30 from Dr. Hauschka, Full Loading mascara by Sephora, a clear lip gloss called Lip Injection Maximum Plump Gloss, and a highlighter from Chanel (Baume Essentiel) in transparent. I've stuck to her words without even realizing it!
Where do you look for inspiration for Rotate's runway beauty? Who are some beauty professionals you like to collaborate with for your fashion shows?
I look everywhere: Movies, old magazines, Instagram, TikTok, Pinterest… you name it. This year we're working with Marianne Jensen on hair –my hairdresser is a part of her team; so that's super exciting.
Is there a beauty look you would love to try out next?
I'm all about the eyes these days. There is a liquid silver eyeliner trend on TikTok and I think that's my next thing to test out.
Your beach bag has spilled on the floor! What are some things we'll find in the bag?
Always an SPF 30 for both face and body, Palmer's Cocoa Butter Stick for lips, sunglasses, my wallet, and gum.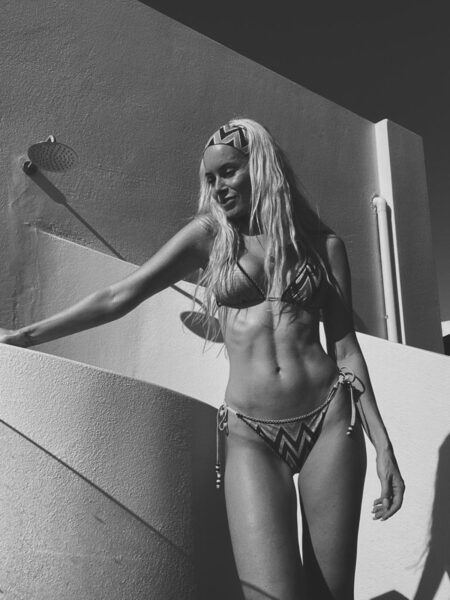 I'm always in awe of the way Danish people incorporate colors into their styles. The way you do it is very effortless, fun yet relaxed, in a very Thora-like manner. What are some colors you absolutely love to integrate into your daily style?
I'm obsessed with orange, green, blue, and red but also yellow. And sometimes pink! I love how those colors go with black, white, and denim to add a more neutral touch to my outfits when they are colorful.
Can you think of a foolproof self-care ritual that makes you feel good every time you do it?
Indeed: A full body scrub, followed by a thick moisturizer by Augustinus Bader. Then, a foot bath and a proper foot scrub. Nothing feels better than soft feet and healthy, soft skin.
When do you feel most beautiful?
At night, when I have removed my makeup and I'm just relaxing with the people who have my heart.
What does the word Wonderflaw evoke in you?
It reminds me that even though, I, for example, have pigmentation flaws on my skin, I'm perfect just the way I am. What a wonderful feeling to get, thank you for reminding me.