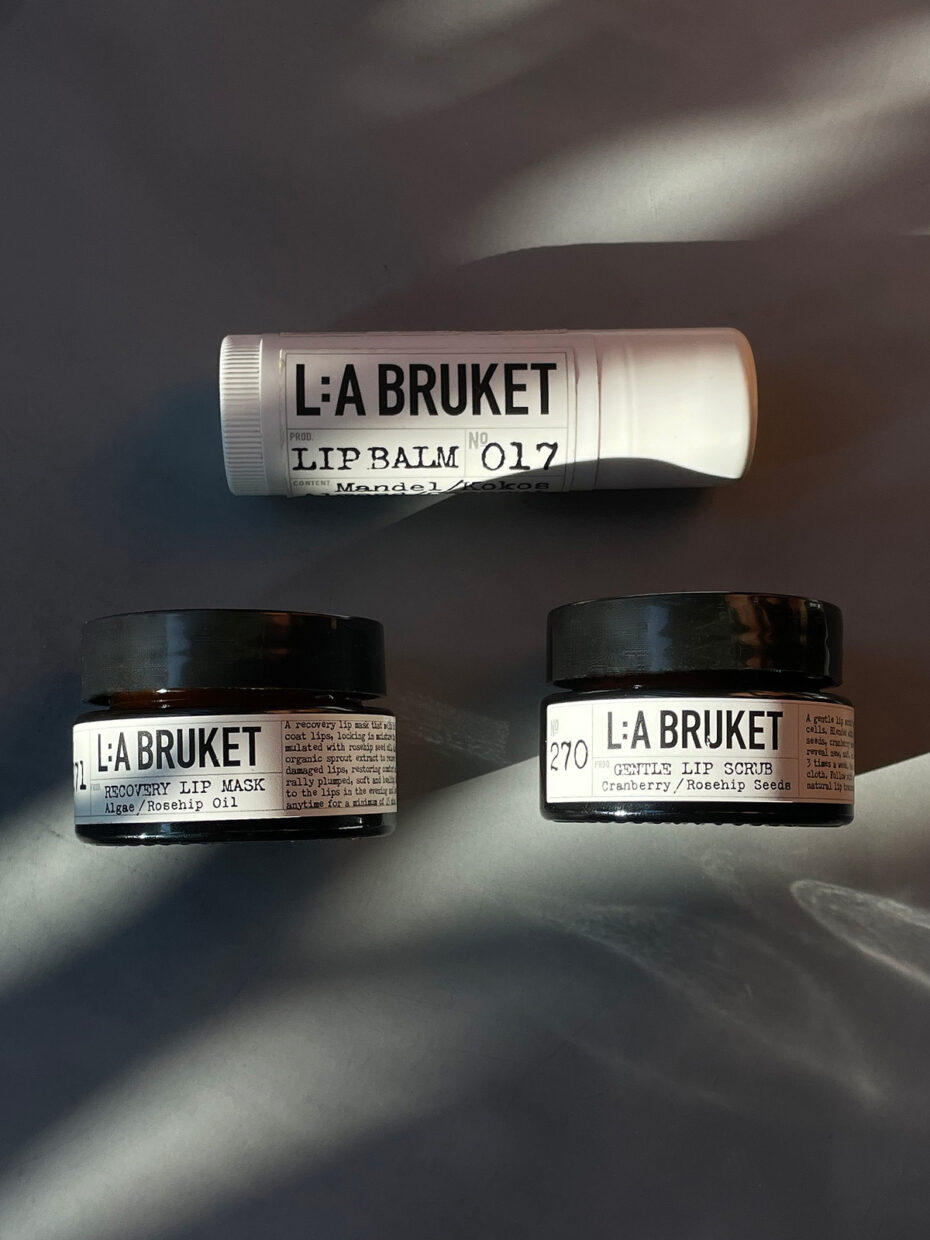 La Bruket Lip Restore Kit
Who? Valerie Dayan

For how long? 2 months
My lips have occupied considerable space on my otherwise slim face since I have known myself. And lip care has always been my thing, not just because I wanted to protect something people used to make fun of me for (my rebellious nature shows itself in unexpected ways) but also because the lip balm is the gateway lipstick. When I was four and not allowed to use mom's rust-colored lipsticks, I knew I could always grab a clear Labello and pretend I was part of that chic lipstick-wearing community. Thanks to the gateway lipstick, I felt like I was someone.
That's how my prolific obsession with lip balms came to life. To this day, I've exhausted them in different forms, textures, colors, and brands. Some I loved and forgot, some stuck with me, and some never worked. This T&T is about my lip care family's newest members and probably will not be the last entry here on this specific subject.
Relatively new to the Turkish market, La Bruket is a Swedish skincare brand that has safety, sustainability, and nature in its heart. When I encountered their lip balm, I was actively looking for a new one (I had just finished the Hermès balm, but the refill wasn't available in Istanbul). I didn't hesitate with the La Bruket one because of the short inci list of tocopherol, beeswax, sweet almond, sunflower seed, jojoba, and coconut oils, and also because of its size. The balm is quite chubby, and "chonk" has quickly become a novel and important feature for this review. It weighs fourteen grams (most lip balms on the market are four grams on average), has a comfortable grip, and covers most of my pout in one swipe. Using it has become an ordinary gesture that gives me a little kick of simple pleasure. Moisturewise, it's quite effective; the light, balmy, slightly glossy texture stays on my mouth for quite a while, and even after it's completely gone, my lips stay relatively hydrated.
As for the other two teammates of this hefty balm, the scrub is a gentle product of rosehip seeds, cranberry powder, and various moisturizing organic oils. I apply it to dry lips, massage it with a focus on drier areas such as inside corners, then massage it some more using a damp towel. The oils in the formulation keep my lips plump, and the massage gives a natural rosiness, an aftereffect I love. After this routine, I head right over to the lip mask and also slather it every night before sleep (the small jar rests on my bedside table). With rosehip, castor seed, sweet almond oils, shea butter, mango butter, and algae, the mask aims to moisturize deeply and strengthen the skin barrier. The latter is a feature that matters even more in wintertime and during whimsical temperatures. I have also observed the mask treat and heal little bruises that would otherwise take longer. (For any family members reading this review, my klutzy nature is the cause of these aforementioned marks.) I'm quite content about the balm purchase, and getting the three-piece set has shown visible and sustainable results on my currently overindulged lips.
What do you want Wonderflaw editors to try out next?