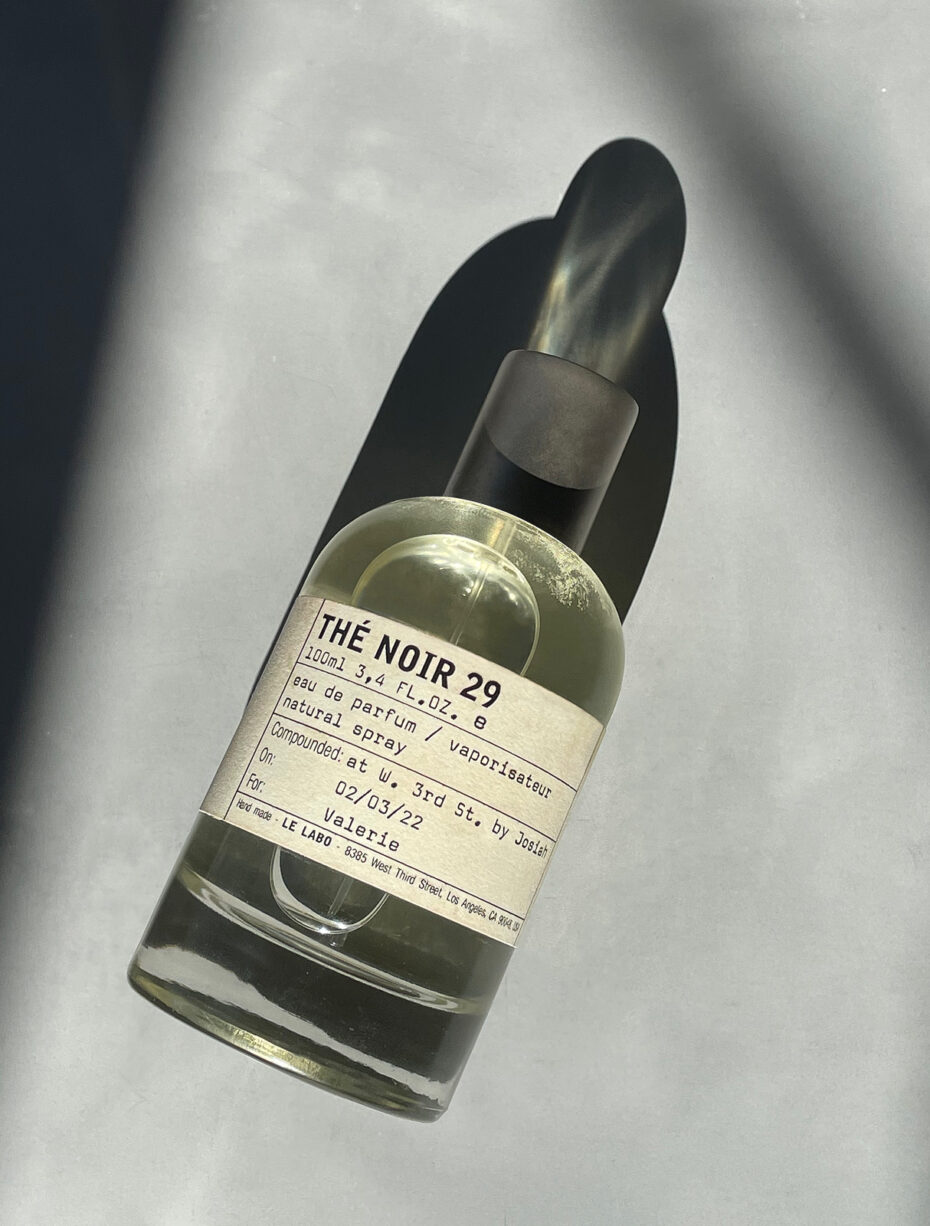 Who? Valerie Dayan

For how long? 6 years
One morning in March 2016, I wandered around San Francisco's Fillmore Street. I was jetlagged but possessed a special sort of strength that only shows itself when roaming in foreign lands. I stopped in front of the Le Labo store and decided to go in, not to buy a fragrance, but because wanted to spoil myself with a candle. One thing to know about me – I am not a fan of fragrance or jeans shopping. I'm not someone who has 10 pairs of great jeans. I have a few that work well for me. And with fragrances, I've had long periods of loyalty to single bottles; it was deep in my Frédéric Malle Musc Ravageur period. To me, both getting a great pair of jeans and a signature fragrance are personal encounters that require a certain physical and mental strength, combined with a touch of kismet. It's a fleeting moment that happened to me that morning. As I was picking a Petit Grain candle, the sales assistant (who knew he'd be my olfactive Eros!) recommended I try the new fragrance, Thé Noir 29. I sprayed it on my left wrist, paid for the candle, and left.
As I kept on walking towards Mission, the notes softly brushed upon my nose and made me feel things. Was it the musk? The black tea? I could not quite put a finger on what note it was that grabbed my attention. So I let the editorial analysis go and went on co-existing with this moving scent.
A few hours passed when I understood that what immediately shook me was a sense of familiarity. Not with a past moment or place, but rather with myself. It was mine, it was me. A random stranger in a random moment in time introduced me to a fragrance that smelled like who I was at the time. Before the stores closed, I went back to Fillmore and purchased Thé Noir 29 in 100 ml. It was effortless. I have had numerous refills ever since – I have the sensuous perfume in 50 ml and 100 ml.
To give some details on the notes: Le Labo's iconic number opens with gentle fig, aromatic bay leaf, and bright bergamot. The warm heart consists of cedar wood, musk, and vetiver. The dry down is very leafy and woody, thanks to tobacco, hay, and black tea leaves. This soft yet powerful composition is created by prolific perfumer Frank Voelkl. I don't find it to be an inherently feminine scent; in fact, a few of my male friends also have it in their fragrance wardrobes. Sometimes one comes across a fragrance that reveals one's identity or introduces them to whom they aspire to be. When that happens, pay attention and spray away.
What do you want Wonderflaw editors to try out next?