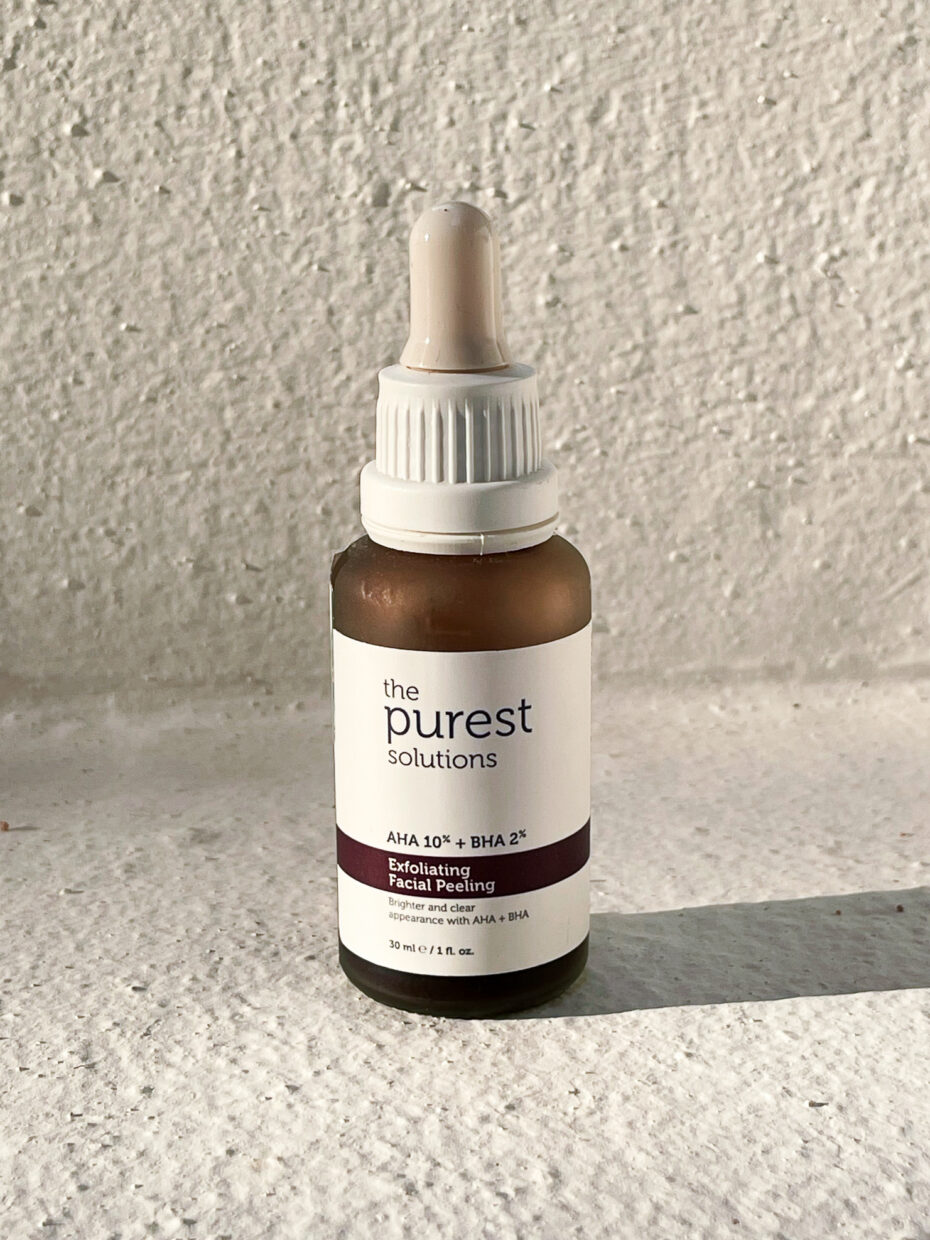 The Purest Solutions Exfoliating Facial Peeling
Who:
Ebru Kabacık
For how long? 1 month
The Purest Solutions is a local, vegan, cruelty-free brand, and I've been trying out their chemical exfoliant for some time now. It contains AHA derivative exfoliators such as citric acid, lactic acid, malic acid, gluconic acid, glycolic acid, tartaric acid, ascorbic acid, plus BHA and salicylic acid to balance oily skin and tighten pores. And it is a fragrance-free, paraben-free, alcohol-free product. Be careful not to adopt it in the same routine with other acid derivatives.
The reason why I prefer chemical exfoliants is maskne, i.e. acne breakouts from constant contact with masks. Recently, I've been noticing that clay masks fall short when it comes to treating new acne (especially on my cheeks) and properly cleansing my oily T-zone. I've saved this chemical exfoliant for my evening routine, and I do a double-cleanse beforehand. When I'm sure my skin is thoroughly dry, it is time to apply the Exfoliating Facial Peeling. I do feel a slight stinging even though I do not let it sit on my skin for more than ten minutes. Then I wash it off with lots of water, making sure the product doesn't touch my eye area. I finish my night routine with an acid-free moisturizer. And I always make sure I use a high SPF the following day. 
Here are the effects: Removed excess oil, gave a pleasant brightness, refined pores, and got rid of my active breakouts. In short, my expectations were satisfied in full. The hyaluronic acid in its formula prevented potential dryness. And I did not experience that skin sensitivity which I get from time to time when using acid products in higher concentrations. One last note: I did not observe any changes in my skin tone. 
What do you want Wonderflaw editors to try out next?