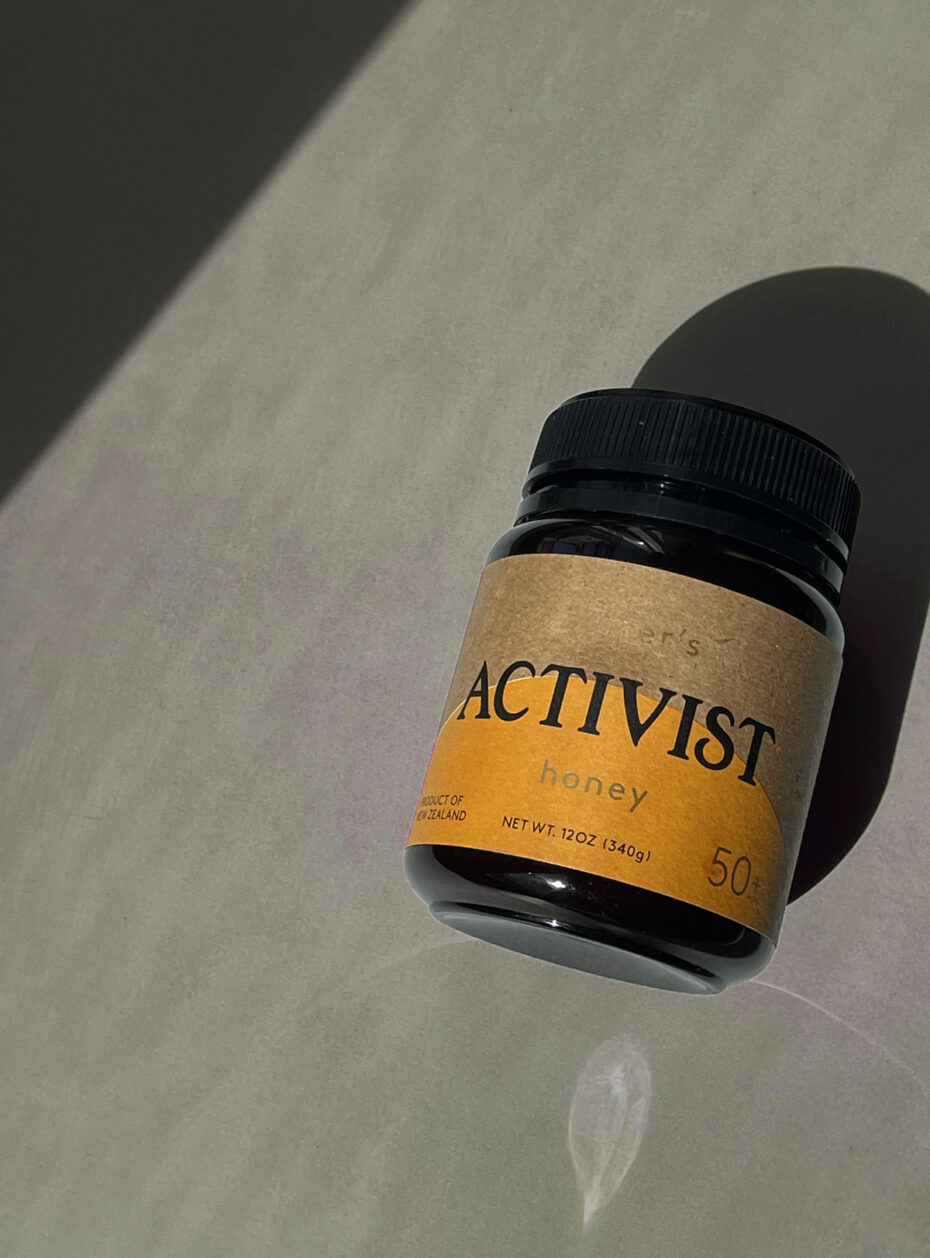 Activist Surfer's Honey Raw Mānuka 50+MGO
Who:
Başak Ulubilgen
For how long: 2 months
Manuka honey is one of those ingredients that has it all. It is simple, effective, gentle, and those qualities are equivalent to gold here in the land of beauty. Manuka honey is also rare; it can only be found in its hometown of New Zealand, therefore automatically increasing its worth, both in cost and quality. But, you see, Manuka honey is worth the investment. Aside from skincare, Manuka honey is commonly used as an alternative to sugar, to help with digestive issues; treat burns and wounds, or even acne. It might be a one ingredient product, but it's much more complex than that, as most simple things are. For this, we should all thank the bees from New Zealand. They do, however, get a little help from the Manuka bush.
Manuka bush is a flowering plant that is native to New Zealand. The bees pollinate this plant during a small seasonal window in the spring and summer months, and that's how Manuka honey is created. The specificity lies in the fact that these certain bees and plants come together at the right place and the right time, creating yet another miracle that's gifted to us by Mother Nature. Activist, a small batch brand from New Zealand, wildcrafts their honey from these plants. They use the methylglyoxal (MGO) grading system to test and grade their honey. Let me explain.
The reason why Manuka is considered the most beneficial honey in the world depends on its MGO grade. According to Activist's website, "in 1981, researchers at the New Zealand University of Waikato discovered that Manuka honey has a considerably higher level of enzymes than regular honey and identified its active agent, methylglyoxal (MGO) -the concentration of which is widely measured in the industry to determine the potency of what's in the honey. These enzymes create a natural hydrogen peroxide that works as an antibacterial." And the higher the MGO grade the more antibacterial your Manuka honey is going to be. For example, Surfer's Honey Raw Mānuka has 50+MGO, but they also have 100+MGO, 300+MGO, 850+MGO, and 1000+MGO. Also keep in mind that as the MGO grade goes up, the prices go up with it.
I initially bought Surfer's Honey Raw Mānuka 50+MGO to add to my nightly chamomile and turmeric tea routine. But as I dived deep into Activist's website, I couldn't help but try it as a face mask. I wasn't sure if I was supposed to use this grade of Manuka on my skin, so I asked the brand. Although they recommend higher grades (850+MGO or 1000+MGO, for example) to use on the skin, they also said that you can use all their Manuka honey both topically and internally. Their suggestion stems from the fact that the higher grades are more antibacterial. I must say that I'm often torn between eating it and using it on my skin; it goes so well on smoothie bowls, pancakes, granola, as well as in teas. Honestly though, having a teaspoon full of this honey in the morning did make me feel good. I don't know if it's just a placebo effect, but, I think it helped with my mood and overall digestion. It's a plus that Manuka honey also has the science to back it up.
After my little dietary experiment with Manuka honey, I tried it as a face mask. And this is when the little jar made its way into my bathroom cabinet and has been used once a week for the past 2 months. It feels especially good after using clay or an exfoliating mask, as the Manuka helps with soothing and moisturizing the skin. My routine goes like this: I cleanse my face with my ride-or-die cleanser (YTTP CLEANSER), I steam my face with water, I use a clay mask, and then right after that I slather the Activist Surfer's Honey Raw Mānuka 50+MGO all over my face -including the neck- and wait for 30 minutes. It washes off pretty easily, and I am left with the smoothest skin ever (I am not exaggerating). Activist's honey comes in jars made of recycles plastic and they are always produced in small batches to retain Manuka's value. If you come across this jar, make sure to give it a go, both in the kitchen and in your skincare routine.
What do you want Wonderflaw editors to try out next?