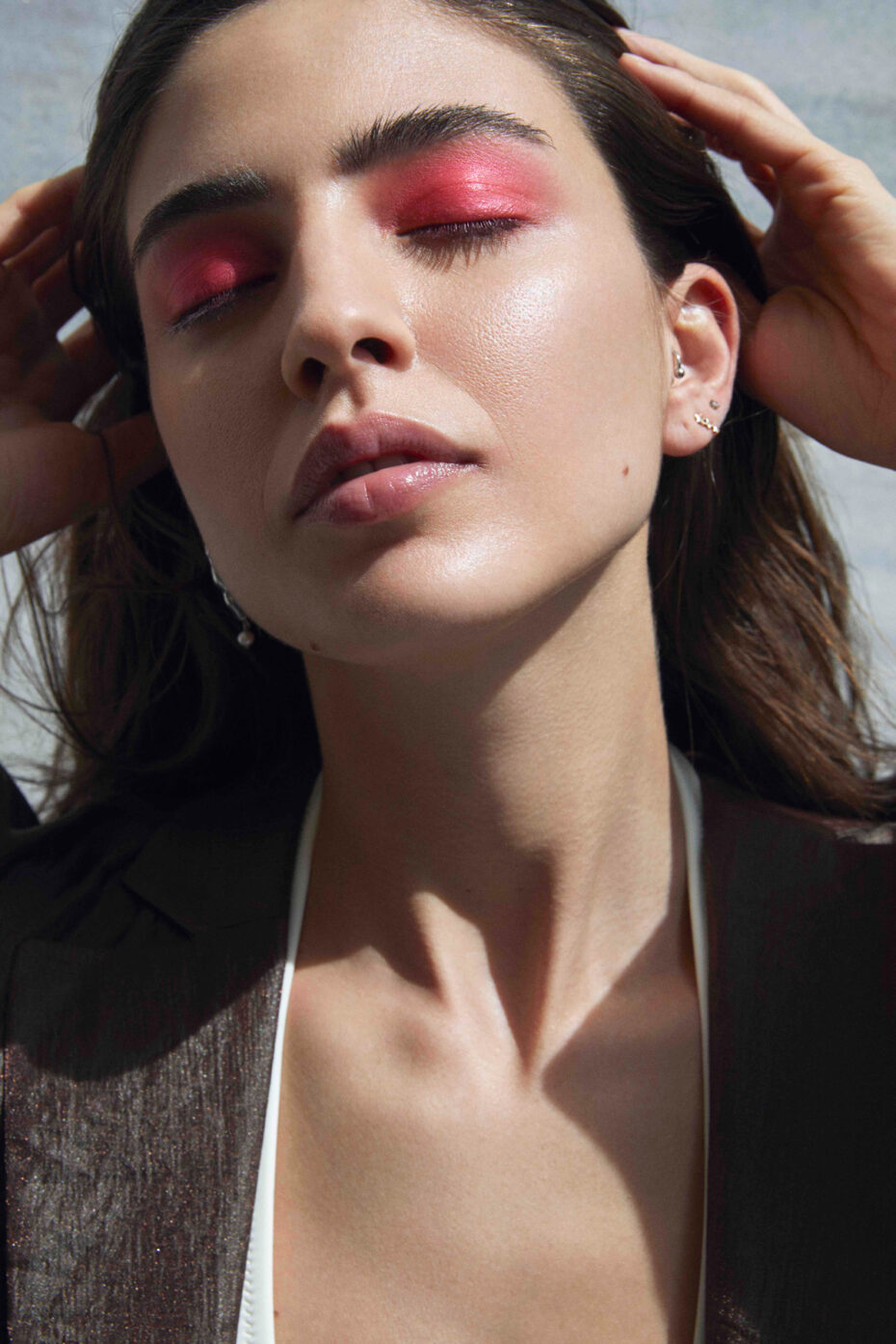 Can Nil Keser Convince You To Go Pink?
An unexpected magenta line above the eyes and wet raspberry lips—our pink dreams come true on actress Nil Keser.
Pink, the color of possibilities, has quite an interesting place in the realm of makeup.
You can become oh-so-many things with this color: Ultra-daily (imagine a light blush or lipstick), showstopping (hot pink lips with vinyl texture, anyone?), or -based on your tolerance for experimentation- something a little more daring (at this point I visualize an almost powdery matte, magenta eyeliner). And what's interesting is that pink isn't even one of the first colors that come to mind when you look for some casual novelty in makeup.
On the other hand, pink makes us feel good, whether it's the lightest or the most electric hue.
Yes, pink is happy. And since there's no cold hard scientific proof of that (we would not want to busy science with trivialities of this nature), for this makeup oriented article, these references shall suffice: The song "La Vie En Rose," the famous rose-colored glasses of optimists, that cute little pink heart emoji with vibrations, and/or the positive-vibes-only fashion statements of the iconic film character Elle Woods.
So here is why this shoot exists: As a person who admires pink makeup on others (but never tries it on herself), I want to convince myself and potentially others to muster the courage to go pink.
In comes Nil Keser with her joyful demeanor and easy-going vibes; the ideal protagonist to our pink mission. She radiates effortless, rosy energy. And she's ready to play with every look.
The Pink Squad came together at Soho House Istanbul. Teaming up with makeup artist Yağız Yoldaş, we decided on five looks we would want to wear daily. Keser's brunette locks were styled by İsmail İnan. The photographs are by Mert Arıslan.
Can Nil Keser convince you to go pink? She has already and entirely won me over.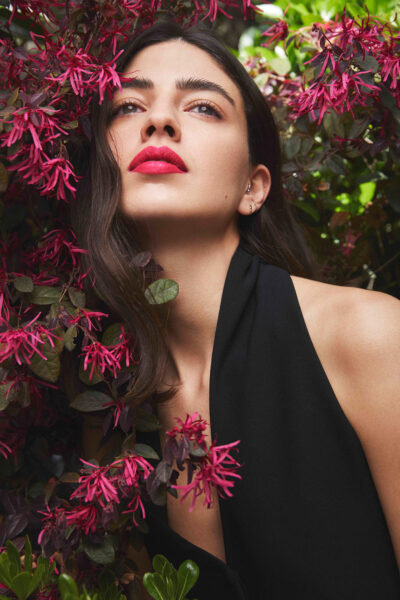 A Bright Matte Pout Can Be An Accessory
A matte pink pout can be the jolly accessory of a glowy, almost-naked complexion and shadow-free eyes. The best way to achieve this look is with a highly pigmented lip liner, and that's what Yağız Yoldaş uses on Nil Keser's lips. When picking out a lipstick or a lip liner, you should consider your hair or skin tone and the color of your lips, Yoldaş says. "Better go for brighter colors if you have pale lips and darker hues if they are more flushed." On Keser's skin, he used one of his favorite products: A tinted moisturizer that doesn't quite conceal the beauty of the natural complexion and gives out a healthy radiance.
Wondertip: Preparing for matte lips begins with bidding farewell to dead skin. A quick and gentle peeling with a wet towel (if possible, post-bath, so the skin is soft) will easily do the work.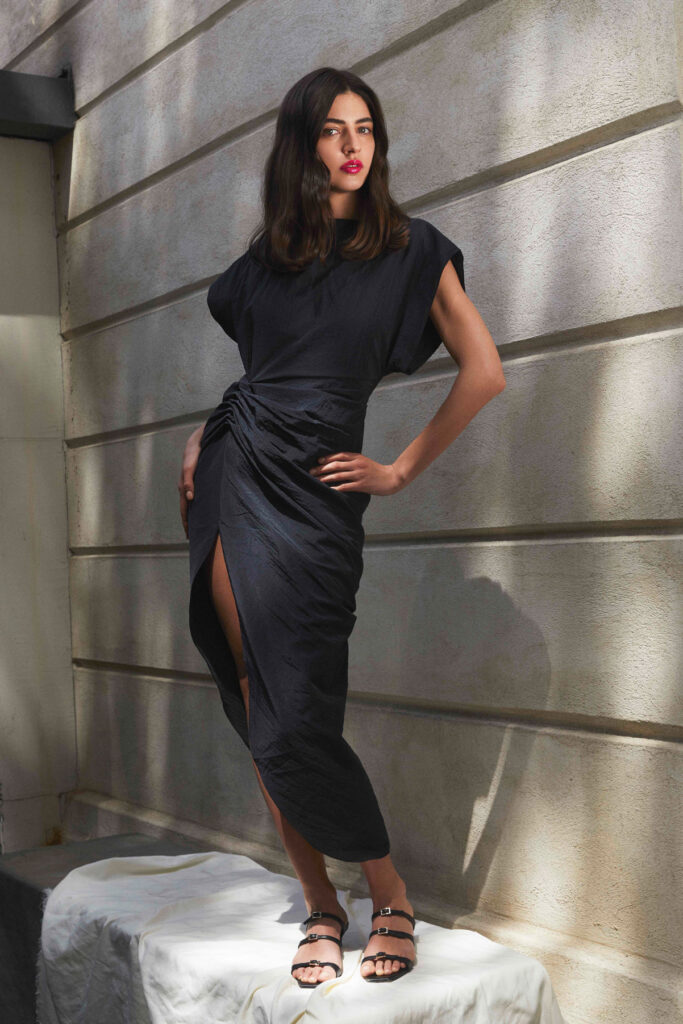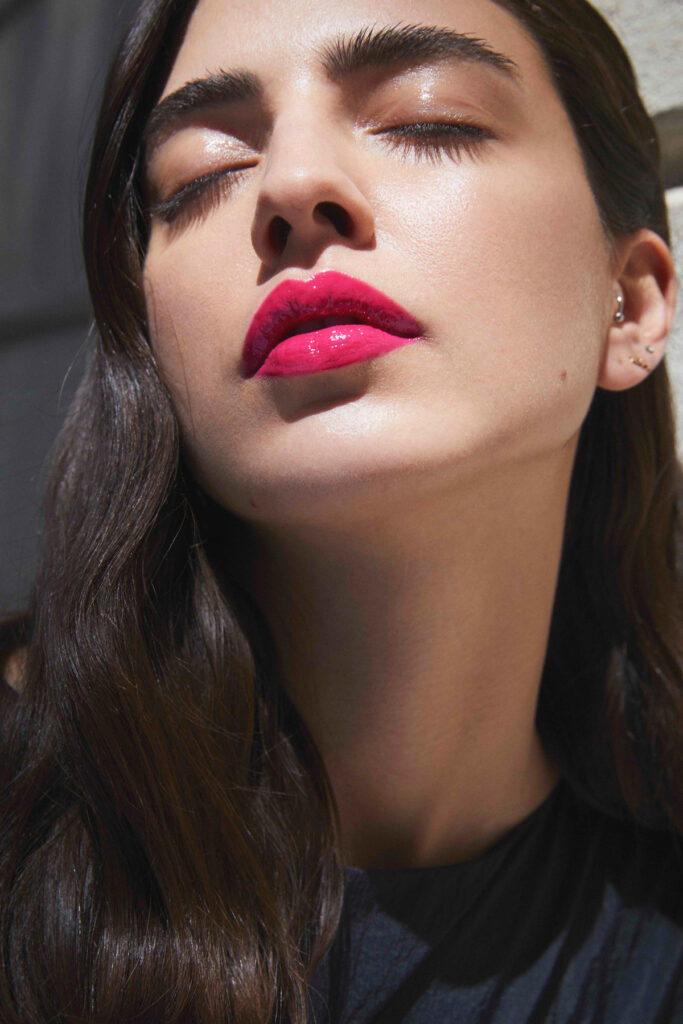 Statement Wet Lips That Stay Intact
It's time to bring the foolproof wet lipstick look (you know, the one that looks so good, it could pass as a sticker) from IG and professional shoots to real-life lips. Here's the recipe: A lipstick or a liner, topped with gloss, and honestly, the true will to do it. Because it does require some, not a lot, work to be maintained. Yoldaş suggests wiping it off before eating and reapplying it after the meal. Well yes, we're not giving up on food, even for lips that resemble sweet, candied apples. As a final touch, Yoldaş lightly dabbed Keser's lids with the same transparent lip gloss to match the pretty reflection.
Wondertip: To get this look, you can fill in the entire lips with a pink liner and layer it with a clear gloss, or just trace the lips with the liner and mix it with a pink gloss using a brush.
Wearing The Fuchsia Glasses
This is how "looking through rose-colored glasses" translates into makeup. Yağız Yoldaş says strong, pink lids are a timeless choice that adds a touch of vivacity. "A look that always excites me!" adds Yoldaş, as he applies a lightly sparkled, warm fuchsia powder shadow with a blending brush. He brushed Keser's naturally thick brows upwards and fixed them with a clear mascara. A barely-there gloss completed this powerhouse look.
Wondertip: A hint from the pro: "The key to this look is not to exceed the eyelids with the shadow." Yoldaş also adds: "To have a fresh result, don't emphasize the lips and make the lids the star."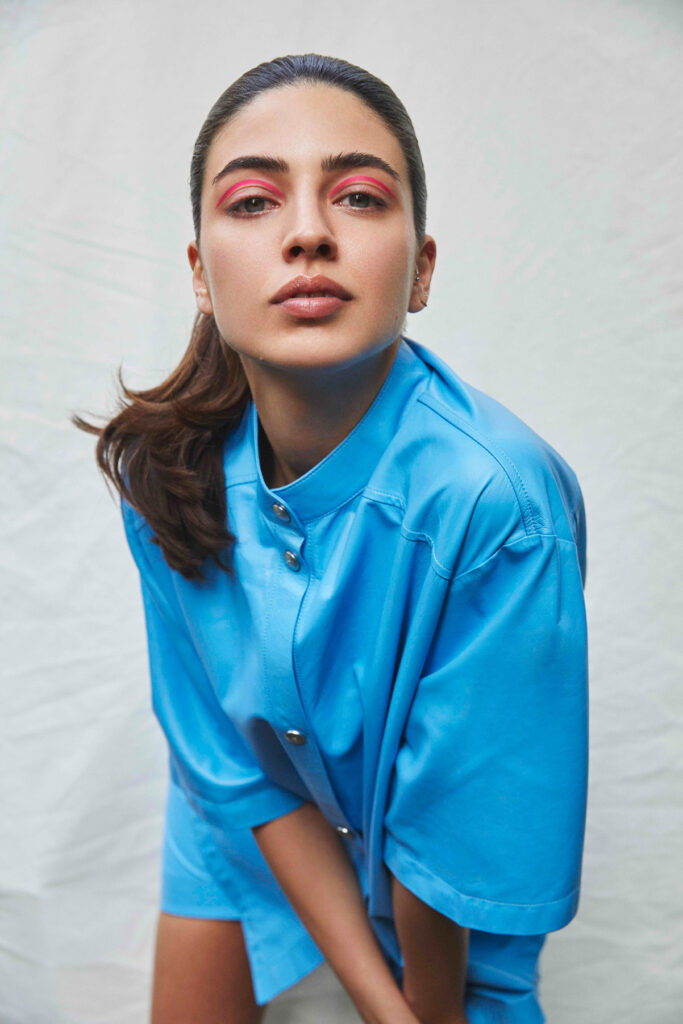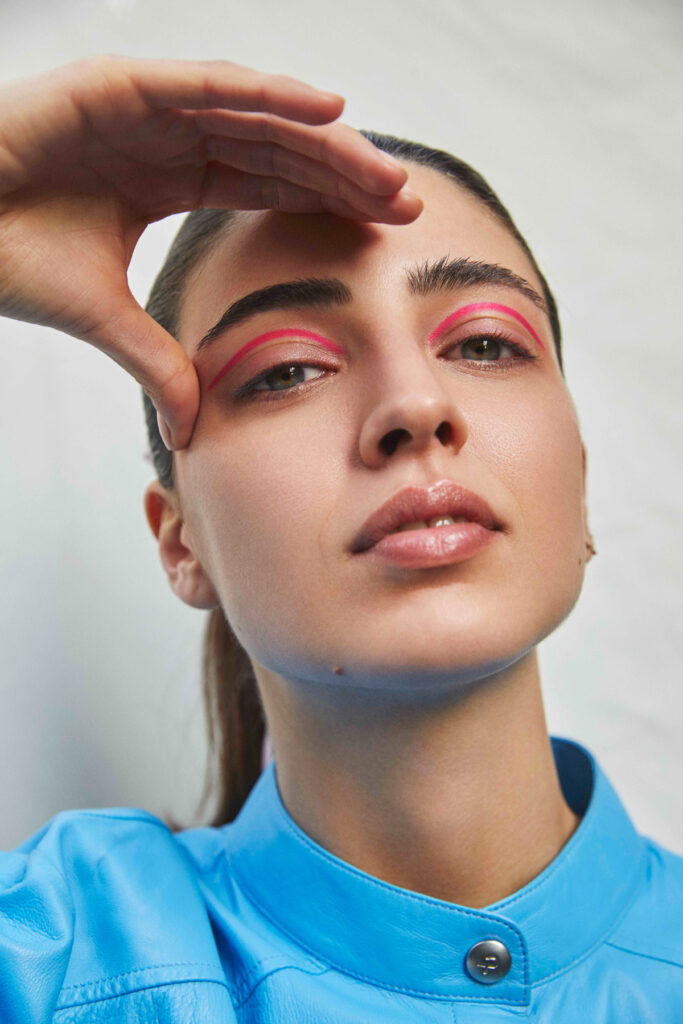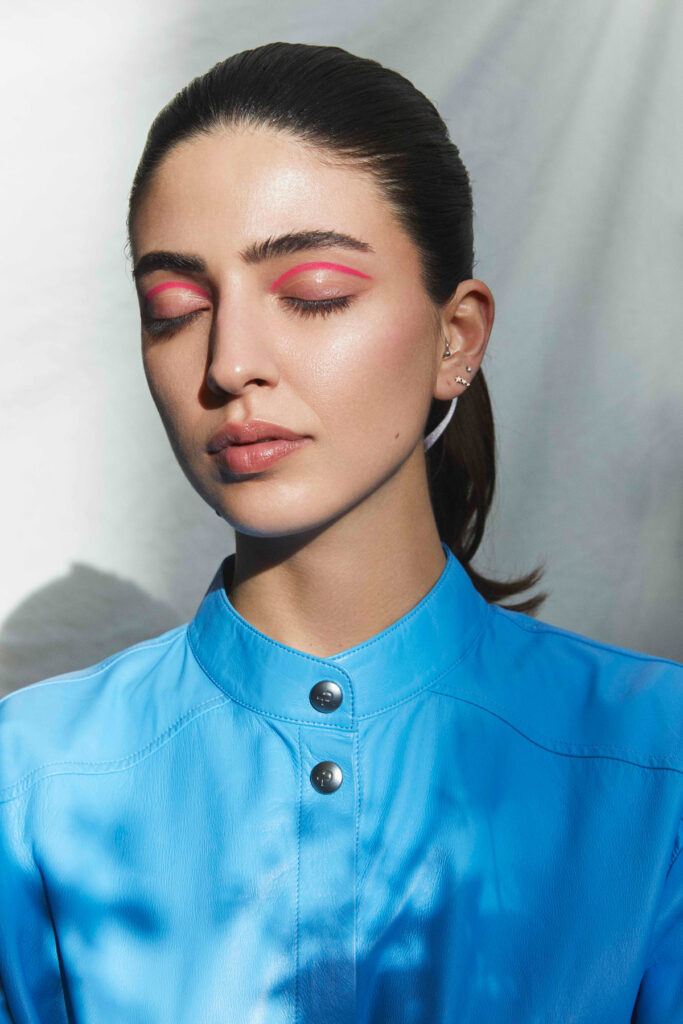 The 60s, But Make It Magenta
The iconic crease eyeliner from the 1960s gets a magenta update on Nil Keser's lids. An instant accessory for day or night, that happens to be effortless yet striking at the same time. Besides, if you draw it with a high-pigmented, lasting product, it won't require any touch-ups. Yağız Yoldaş suggests a brief eyelid analysis in the mirror before stating: "It's best to draw the line in a single stroke from the inner to the outer corner, without moving your hand, and fill in where needed after. And voila, you're done!" İsmail İnan's sleek ponytail is a practical and elevated addition, accentuating the electric mod eyeliner.
Wondertip: Got hooded eyes? No problem! Yoldaş recommends finishing the outer edge of the line slightly higher. He also suggests applying translucent powder on top to avoid potential smudging.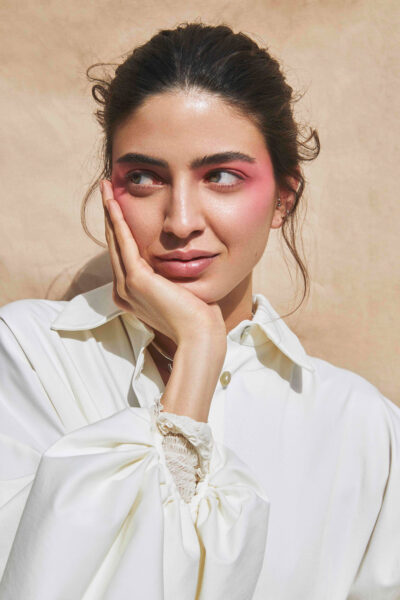 A Blush That Lifts You Up
This blush technique, also called draping, highlights both the eyes and the cheeks and creates an uplifting effect. Yağız Yoldaş uses a cream pink blush, an item he says should exist in all makeup bags. "An essential and multipurpose product that can be used on lips, cheeks, and eyes!" The sweet sweet rosiness that stretches from Keser's eyelids to cheeks is accompanied by upward brushed brows.
Wondertip: Yoldaş prefers a narrow brush with soft bristles to blend it effortlessly and to keep the blush amount under control.
Get The Rosy Look