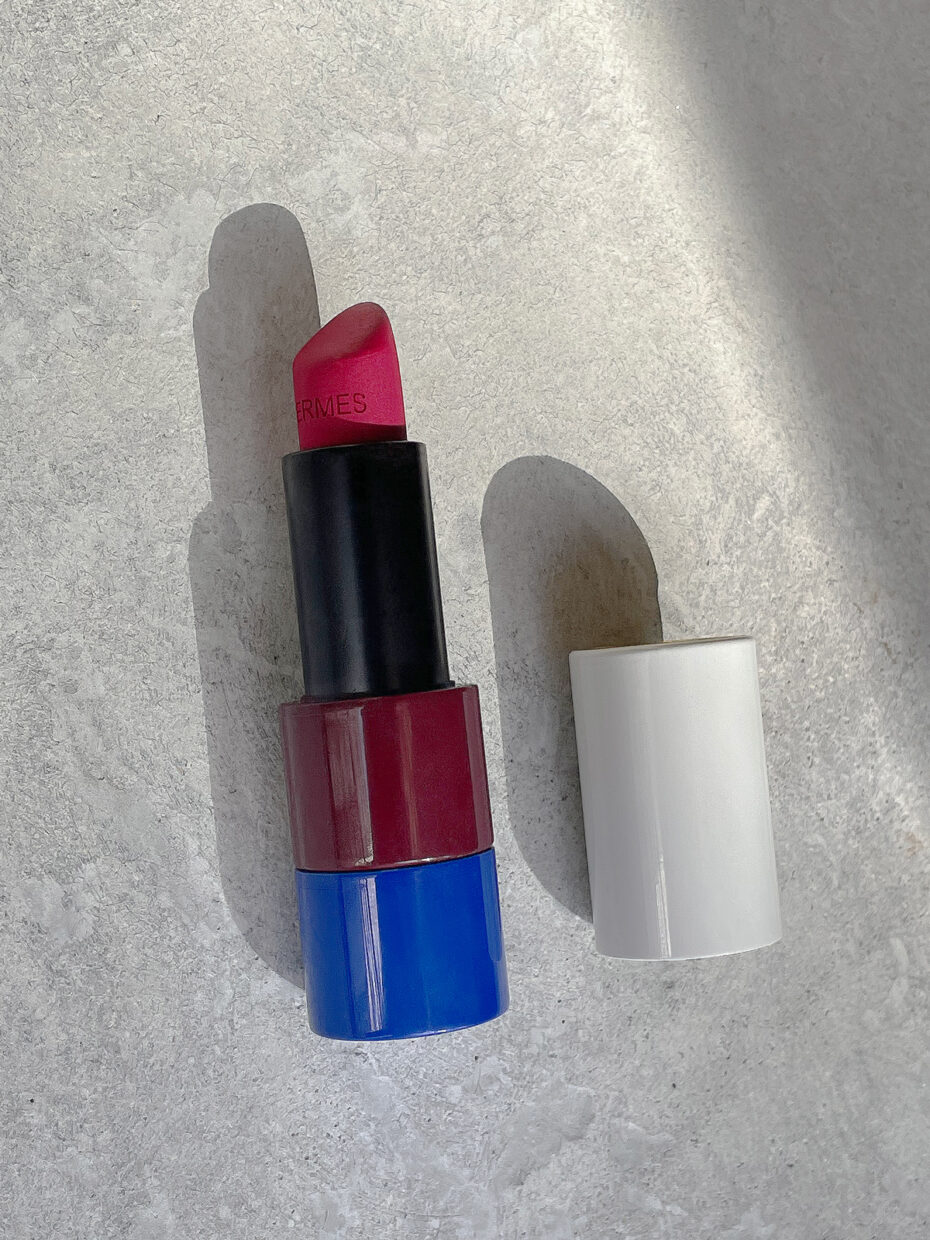 Rouge Hermès Rose Magenta
Who? Valerie Dayan

For how long? 7 months
If you are not someone used to wearing bold hues in makeup, committing to a pop of color can be a big deal. I am known among my friends for my love of a rich red, but bright oranges, pinks or reds I occasionally try on don't usually make it outside my apartment door. It's either not the right undertone, texture, durability or there's something about the lipstick that looks borrowed on my face, almost like an IG filter. This very rich and velvety magenta from Hermès is the very first bold pink that have become a member of my permanent lipstick wardrobe and is a special worthy of a heartfelt testimony.
Let me begin by addressing the French elephant in the room: Yes, the lipstick in question belongs to Hermès, one of the most exclusive and chic brands known to humankind, and is ought to be special. But before trying it on, I asked myself: Is there really any room left for improving lipsticks? With Rouge Hermès, the answer was an instant oui. I was a little skeptical too – it's hard not to be when there's a new high end fashion brand jumping on the beauty wagon every day. My expectations were high – Hermès high – and being an unofficial lipstick gourmet for many years, I must say it takes more than great marketing to vow my lips. The lipstick comes in a small yet sleek Hermès orange box and an off white canvas pouch. Inside the pouch is the Pierre Hardy designed, refillable and playfully sophisticated case with a world class magnet that clicks on seamlessly. I admit to playing with the case, even when I'm not using it; it is almost a stress relief gadget. Yes, the lipstick case magnet matters! And it's small gestures like this that makes a classic noteworthy.
The Rose Magenta hue, initally launched for the Autumn – Winter 2021 collection, is pink, very, unapologetically pink with cool undertones and rich pigmentation. It is not a secret that we are big fans of a good magenta around here at Wonderflaw. The texture is somewhere in between powdery and velvety, and it envelops the lips in the most gentle and comfortable manner possible. The best part about the matte Rouge Hermès is the sensation upon application. I will go as far as to say it is poetic. It glides perfectly, yet the pigments stay put. Once it's hugging the lips, there's a subtle scent that will occasionally be caught by the nose; it is a distinct lipstick fragrance (yes, you read that right) created by inhouse Hermès perfumer Christine Nagel. She is one of the kindest, most humble and creative individuals I have met in the industry, and her small yet effective touch instantly elevates the product. Although the lipstick can naturally be layered with a pencil, I've found that there is mostly no need.
Apart from the distinctive packaging, texture and the scent, a great lipstick needs durability. Except, that's a thin line, especially when it comes to matte lip colors. I'm always on the lookout for something that lasts throughout my meal, but doesn't feel like it has clung on to my lips forever via mad chemicals. Hermès Beauty has found that very sweet spot. The first time I used Rose Magenta was on New Year's Eve, and despite all the food and beverage consumption, the color was almost intact; the edges blurred very slightly, just the way I like it. This was a breakthrough moment, because that's when I knew it wasn't something to be kept for special occasions; Hermès created something that's bold and beautiful enough to make me feel special, but comfortable enough to make me forget I even wore it at all. In the ingredients list you will come across soothing and moisturizing agents squalene, crambe abyssinica seed oil and tocopherol: Rouge Hermès is actually a lip care product disguised as a pretty lipstick. To me lipsticks exist purely to make one feel good, and with this chef d'oeuvre, that great feeling lasts all day.
What do you want Wonderflaw editors to try out next?